Recipe: $3.35 | Per Serving: $0.84 | Yield: 4 | Jump to Recipe
This rich and delicious bacon avocado salad is the salad to convert salad haters. It's full of delicious flavor from the bacon and avocado, plus a variety of textures from the white beans and tomatoes.
Bacon-Avocado Salad is basically a Just the Good Stuff kind of salad.
Yes, I'm a self-proclaimed bacon hater, and there's bacon in my salad. I promise I don't actually hate it anymore. I don't love it, but I have a few places where I like to put it. Loaded Cauliflower Casserole, for one. And the occasional pasta dish.
You can warm this up or eat it cold. Either way, you'll be the happiest kid in the lunchroom!

Other delicious bacon recipes:
This recipe makes about 3-4 servings, largely depending on whether you like to add a lot of salad greens, and if you're eating it alone or with something else.
Below is exactly how much it made. Zac & I each ate a serving for lunch, and shared the last bit for lunch another day with Turkey Lentil Burgers.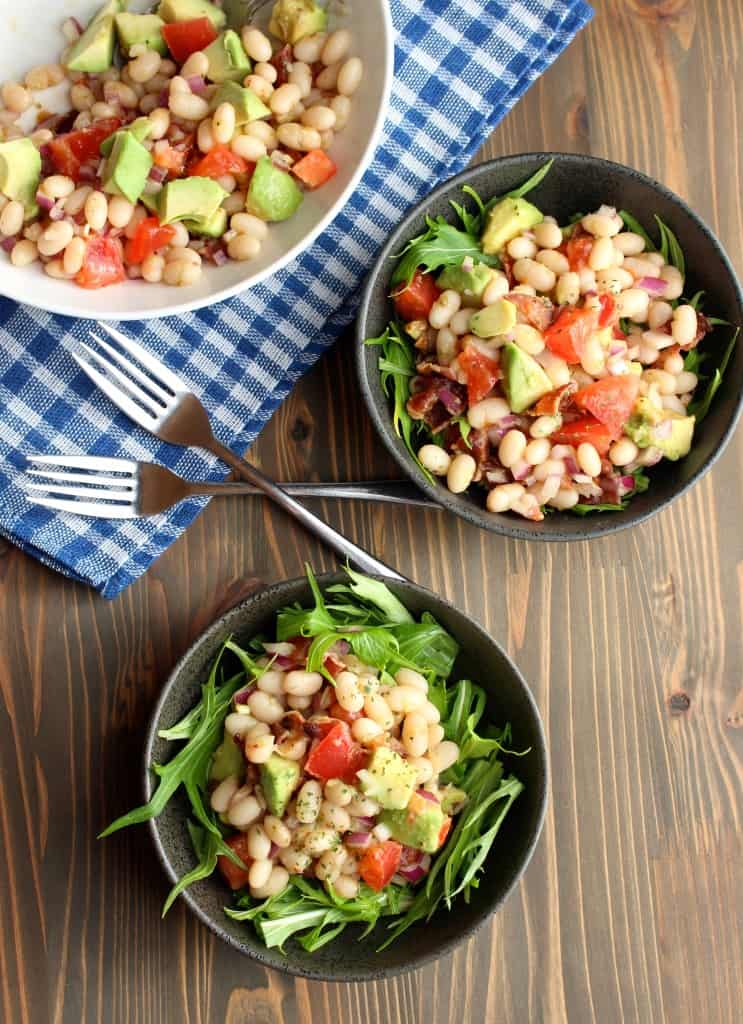 I HIGHLY recommend this salad! It's such a perfect light meal for the January blues. I've personally been binging on Japanese snacks lately, since we're leaving Japan soon, so this lunch provides balance. I hope you make it!
Is Bacon Good For You?
Well, isn't that a question for the ages? We've long been complaining about saturated fat in this country, but most of those judgments were based on ONE poorly done study.
Realistically, more recent research has found that saturated fat in and of itself is definitely not explicitly bad for you. What matters more is the quality of the fat. CAFOs = very unhealthy fat. Small farms with pastured, grass-fed animals = healthy fat!
What are Healthy Fats?
In my first ever nutrition class back in 2013, we were taught that monounsaturated and polyunsaturated fats were "healthy," but nowadays we know that relatively unprocessed fats from whole foods are considered healthy.
Typically, we think of olive oil, avocados, and wild salmon as great sources of non-controversial "healthy" fats, but pastured meat and dairy products (especially butter) are known to have excellent omega-3 to omega-6 ratios. (A review of fatty acid profiles and antioxidant content in grass-fed and grain-fed beef.)
Plus, we know that humans have probably been consuming large amounts of unprocessed fats for much of our lives, so high quality animal fats can be a great part of a balanced diet.
In short, that means high quality bacon can be considered a healthy fat as part of a balanced diet.
If you're buying regular conventional bacon from the grocery store, you're going to get all the toxins and oxidation that goes along with conventionally raised meat in the USA.
However, if you're buying high quality bacon from small farms, or using a grass-fed meat subscription service like Moink, you can definitely enjoy the bacon! (That link to Moink (affiliate link) gets you $20 off your first order!)
And, just to be clear, bacon is certainly not the healthiest option for fat or protein – the jury's still out on all the nitrates and nitrites – but as for my professional opinion, I feel completely comfortable including it in my diet!
More information

: Check out this post by Precision Nutrition.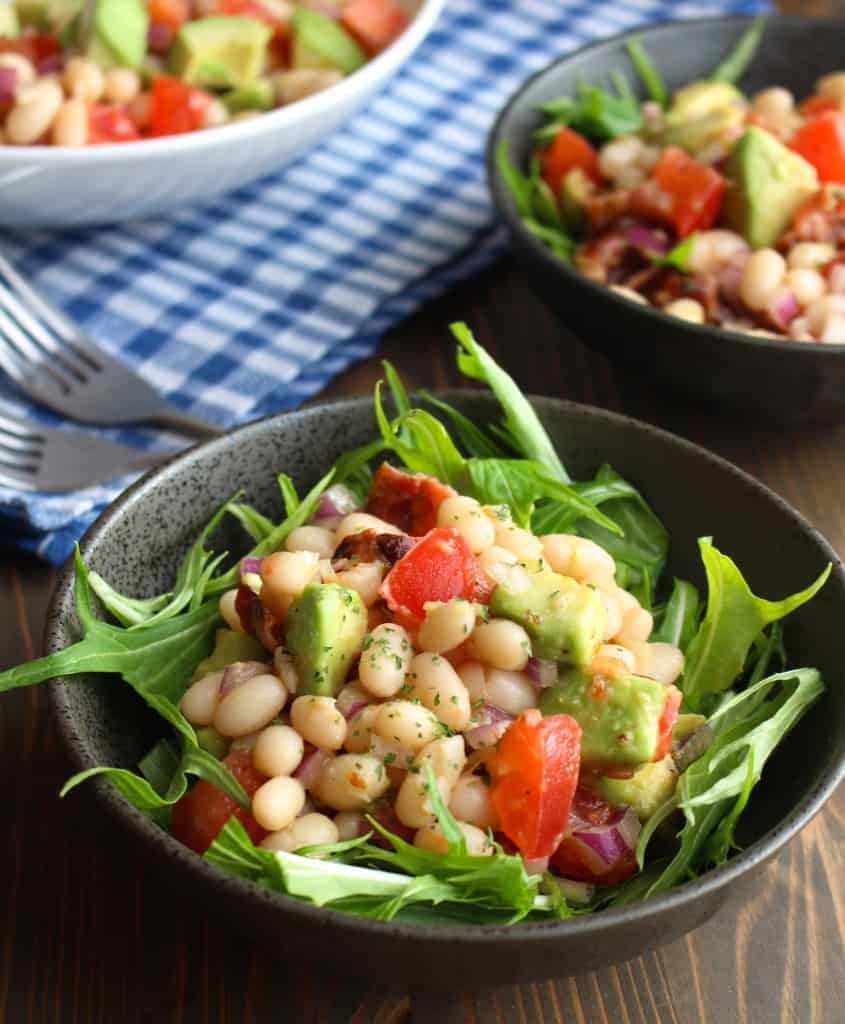 And, if you're looking for more information on beans – are they healthy, are they inflammatory, and how to cook them to make them easily digestible – stay tuned for an update coming soon!
Note: Feel free to add herbs like cilantro or basil, and you can substitute the white beans for garbanzo beans if you prefer! We were also making Jalapeño Salsa Verde Soup (original stovetop version by Pinch of Yum), so we had plenty of white beans.
For Paleo: Try substituting the white beans for slow-roasted cauliflower.
For Vegetarian: Skip the bacon. (Try Shiitake Bacon by Serious Eats instead.)
PIN THIS RECIPE FOR LATER!
Print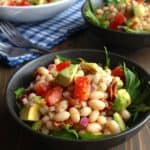 Bacon Avocado White Bean Salad
---
Author:

Total Time:

14 mins

Yield:

3

-

4

1

x
---
1/2

red onion

1.5 cups

cooked white beans (from

1/2 cup

dry) – or 1 can white beans (any type)

1

large tomato

2

slices bacon

1

medium avocado
Dressing:

1/2 tablespoon

white vinegar (or any)

1/2 teaspoon

mustard (any)

1/2 teaspoon

honey

1 Tablespoon

olive oil
pinch of salt
fresh ground pepper (I did about 3 turns)
optional: 4-8 cups salad greens
---
Instructions
Mince the red onion and place it in a shallow bowl. Cover with water and soak for 5-10 minutes. This softens the onion and makes it less potent! (A little trick we learned in Peru.) Drain before using.
Cook bacon according to your preference. Drain the grease and then roughly chop the bacon into pieces. Cut the avocado into bite-sized chunks, and dice the tomato.
Add the dressing ingredients (vinegar, mustard, honey, olive oil, salt, pepper) to a jar and cover with a lid. Shake well! (Or whisk together in a bowl or blender.)
In a large bowl, stir together the white beans, red onion (drained), tomato, and bacon. Stir well. Add the chunks of avocado and stir gently, without mashing the avocado.
Add the dressing and stir to coat. Serve as is, or over salad greens. (I like mizuna and arugula.)
This makes 4 smallish servings, but when mixed with salad greens it easily serves 4!
Notes
To cook beans from dry: Soak 1/2 cup white beans overnight. Drain and rinse, then place in a pot and cover with water. Bring to a boil and reduce to a LOW simmer. Simmer for about 30-45 minutes, or until beans are soft but not mushy.
Feel free to add herbs like cilantro or basil, and you can substitute the white beans for garbanzo beans if you prefer!
Prep Time:

10 mins

Cook Time:

4 mins