This rich and delicious bacon avocado salad is the salad to convert salad haters. It's full of delicious flavor from the bacon and avocado, plus a variety of textures from the white beans and tomatoes.
Recipe: $3.35 | Per Serving: $0.84 | Yield: 4
This Bacon Avocado Salad is basically a Just-the-Good-Stuff kind of salad because greens are optional! It's basically a BLT in salad form plus avocado, what's not to love?
You're getting salty-umami flavor from the bacon, rich creaminess from the avocado, fresh summer tomatoes, and of course, a punchy mustard dressing to tie it all together. Bacon and avocado are a match made in heaven and we're just here to enjoy the party.
You can warm this up or eat it cold. Either way, you'll be the happiest kid in the lunchroom!
Ingredients for Bacon Avocado Salad
There's bacon in this recipe! I don't LOVE bacon, but in certain recipes, like this one, my Loaded Cauliflower Casserole, and the occasional pasta dish, it brings something special to the table. But the question I'm constantly asked: is it healthy?
We're going to discuss if bacon is good for you later in this post, but first, let's make our salad!
Bacon Avocado Salad Base
For the base ingredients of your salad, you're going to need bacon, avocado, tomato, white beans, and red onions.
Salad Dressing
To make your dressing, you'll need white vinegar, mustard, honey, olive oil, and some simple seasonings.
Leafy salad greens are optional!
How to Make this Salad
Start by mincing the red onion and placing it in a shallow bowl to cover with water and soak for 5-10 minutes. It softens the onion and makes it less potent! Then drain the water out and dry the onions.
Cook bacon according to your preference and roughly chop it into pieces, along with the avocado and tomato.
Add the dressing ingredients to a jar and cover with a lid and shake (or whisk or blend).
In a large bowl, stir together all of the ingredients and add the dressing to coat. Serve as is or with salad greens!
Serving Suggestions
This recipe makes about 2-4 servings, largely depending on whether you like to add a lot of salad greens, and if you're eating it alone or with something else. I would say if it is the only thing you're eating, it's 2 servings, but if it is a side dish or paired with lots of other goodies (like above) it will serve 4!
The first time we made this, Zac & I each ate a serving for a light lunch and shared the last bit for lunch another day with Turkey Lentil Burgers.
Is Bacon Good for You?
Well, isn't that a question for the ages? We could spend a lot of time on this one, but I'll just hit four key areas.
Saturated Fat
We've long been complaining about saturated fat in this country, but most of those judgments were based on ONE poorly done study.
Realistically, more recent research has found that saturated fat in and of itself is not explicitly bad for the entire population. Some people may see changes in their blood markers related to saturated fat intake, or may have problematic gut microbes that feed off of it, but for most humans, saturated fat is not a problem.
What matters more is the quality of the fat - what the animals are eating and exposed to ends up stored in the fat. So CAFO animals have more toxins stored in their fat. Small farms with pastured, grass-fed animals = fewer toxins!
With today's data, we see saturated fat as a neutral fat. It is not in the esteemed category of "healthy" fats (like avocado, olive oil, wild salmon), but isn't doing nearly as much damage as once thought. Basically, consume in moderation.
(Though individual considerations should be taken into account.)
Nitrates / Processed Meats
The second factor to consider is that bacon is cured and processed with nitrates. These can cause some damage to the digestive tract. The WHO consistently marks all processed meats as carcinogens. However, types of processed meats, the volume of consumption, the source of the meat, or the overall context of the diet is not considered.
That means all of this information is based on population-size studies, usually of a more observational and correlation type. (Which is true for LOTS of nutritional data we have.) This means, it's tricky to make individual recommendations based on these studies without context. Again, moderation is probably your best bet here.
Inflammation
A secondary piece of this debate is the connection between certain foods and overall systemic inflammation. While the quality of the product itself (how the animals are fed and treated) and moderation of intake are helpful, increasing anti-inflammatory foods can also help.
So in this case, you're eating bacon with a super potent anti-inflammatory (avocado!) and lots of other colorful phytochemicals. Increasing anti-inflammatory foods has been shown to actually prevent the increase of inflammatory markers after a meal. Yep! Amazing. So in this recipe, the flavor benefits of bacon paired with anti-inflammatory foods far outweigh any possible risks.
The Impacts of Restriction
It may be mentally unhealthy for you to restrict bacon, so in that case, the restriction of bacon may be more unhealthy for you, as an individual, than the bacon itself. We don't always talk about the physical implications of being mentally restricted from a food. In some cases, the stress and shame around the food can be more detrimental to your body & brain than the food itself.
So, I, as a nutritionist, cannot flat out deem bacon as "healthy" but cannot call it "unhealthy" either. In this case, it is all a matter of moderation and of course, preference.
Plus, we know that humans have been consuming large amounts of unprocessed fats for much of our lives, so high-quality animal fats can be a great part of a balanced diet.
And, just to be clear, bacon is certainly not the best option for fat or protein - the jury's still out on all the nitrates and nitrites - but as for my professional opinion, I feel completely comfortable including it in my diet!
Check out this post by Precision Nutrition for more information on healthy fats!
And...here are other delicious and balanced bacon recipes: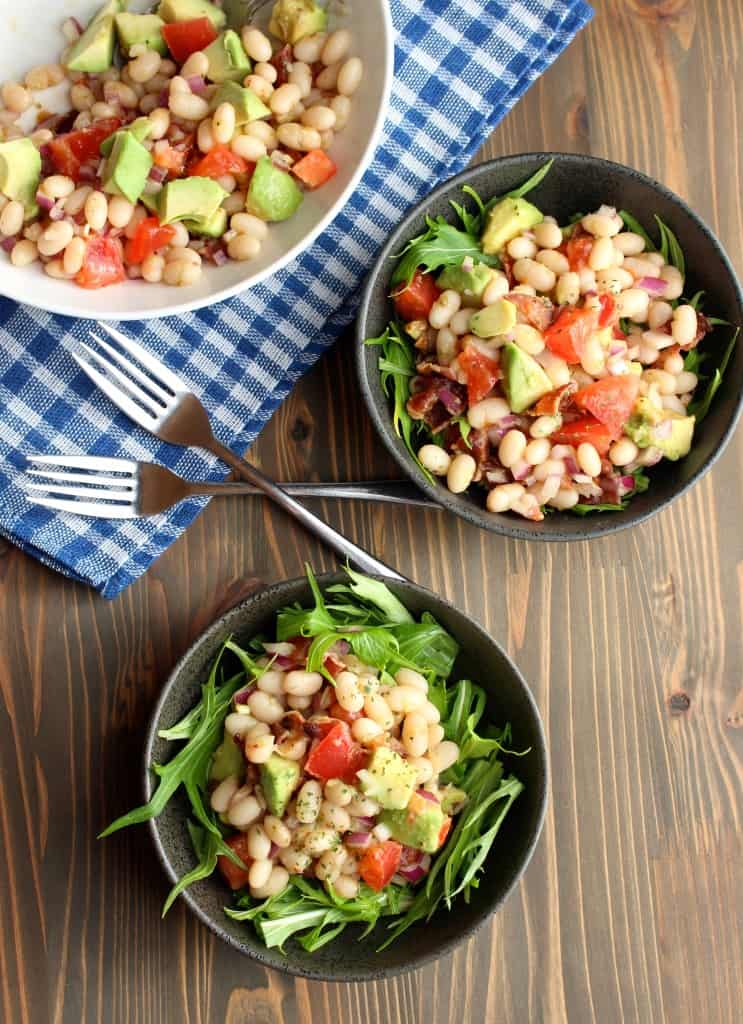 Anti-Inflammatory Foods + Moderation
In my book, I find that keeping most foods in your diet in moderation, is a great idea.
If you're buying regular conventional bacon from the grocery store, you're going to get all the toxins and oxidation that go along with conventionally raised meat in the USA.
BUT, if your overall diet is full of lots of variety and colorful vegetables, the potential negative impacts of bacon a few times will be well mitigated by all those phytonutrients!
If you can afford higher quality bacon from well-raised pigs, that's great too. High-quality bacon from small farms, or from a grass-fed meat subscription service like Moink (affiliate link), are good options if you can afford them.
(This link to Moink (affiliate link) gets you $20 off your first order!)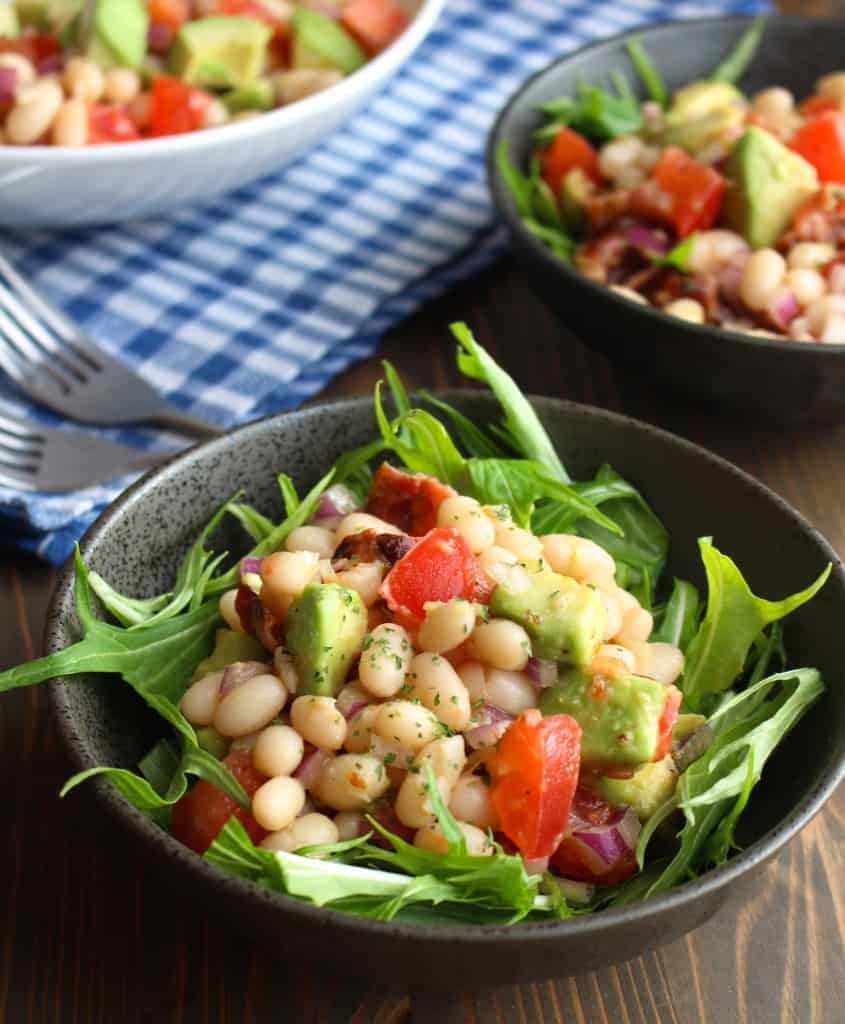 Dietary Substitutions and Modifications for Bacon Avocado Salad
For Paleo: Try substituting the white beans for slow-roasted cauliflower or shredded chicken.
For Vegetarian: Skip the bacon and you're in the clear! (Try Shiitake Bacon by Serious Eats.)
Feel free to add herbs like cilantro or basil, and you can substitute the white beans for garbanzo beans if you prefer! We were also making Jalapeño Salsa Verde Soup, so we had plenty of white beans.
Related Recipes
I highly recommend this salad - It's such a perfect light meal! Be sure to comment below and leave a star rating to let me know how you liked it! Follow me on Instagram for more recipes and travel adventures!
PIN THIS RECIPE FOR LATER!
Bacon Avocado White Bean Salad
This rich and delicious bacon avocado salad is the salad to convert salad haters. It's full of delicious flavor from the bacon and avocado, plus a variety of textures from the white beans and tomatoes. 
Inspired by: Avocados From Peru
Ingredients
½

red onion

1 ½

cups

cooked white beans

from ½ cup dry - or 1 can white beans (any type)

1

large tomato

2

slices

bacon

1

medium avocado
Dressing:
½

tablespoon

white vinegar

or any

½

teaspoon

mustard

any

½

teaspoon

honey

1

Tablespoon

olive oil

pinch

of salt

fresh ground pepper

I did about 3 turns

optional: 4-8 cups salad greens
Instructions
Mince the red onion and place it in a shallow bowl. Cover with water and soak for 5-10 minutes. This softens the onion and makes it less potent! (A little trick we learned in Peru.) Drain before using.

Cook bacon according to your preference. Drain the grease and then roughly chop the bacon into pieces. Cut the avocado into bite-sized chunks, and dice the tomato.

Add the dressing ingredients (vinegar, mustard, honey, olive oil, salt, pepper) to a jar and cover with a lid. Shake well! (Or whisk together in a bowl or blender.)

In a large bowl, stir together the white beans, red onion (drained), tomato, and bacon. Stir well. Add the chunks of avocado and stir gently, without mashing the avocado.

Add the dressing and stir to coat. Serve as is, or over salad greens. (I like mizuna and arugula.)

This makes 4 smallish servings, but when mixed with salad greens it easily serves 4!
Notes
To cook beans from dry: Soak ½ cup white beans overnight. Drain and rinse, then place in a pot and cover with water. Bring to a boil and reduce to a LOW simmer. Simmer for about 30-45 minutes, or until beans are soft but not mushy.
Feel free to add herbs like cilantro or basil, and you can substitute the white beans for garbanzo beans if you prefer!
Serves 2 as a main dish, 4 as a side. Nutrition label below is for 4 servings.
Nutrition
Calories:
502
kcal
Carbohydrates:
45
g
Protein:
16
g
Fat:
31
g
Saturated Fat:
6
g
Polyunsaturated Fat:
4
g
Monounsaturated Fat:
19
g
Trans Fat:
0.03
g
Cholesterol:
15
mg
Sodium:
198
mg
Potassium:
1399
mg
Fiber:
15
g
Sugar:
6
g
Vitamin A:
914
IU
Vitamin B1:
0.3
mg
Vitamin B2:
0.2
mg
Vitamin B3:
3
mg
Vitamin B5:
2
mg
Vitamin B6:
1
mg
Vitamin B12:
0.1
µg
Vitamin C:
25
mg
Vitamin D:
0.1
µg
Vitamin E:
5
mg
Vitamin K:
37
µg
Calcium:
128
mg
Copper:
1
mg
Folate:
188
µg
Iron:
5
mg
Manganese:
1
mg
Magnesium:
114
mg
Phosphorus:
238
mg
Selenium:
8
µg
Zinc:
3
mg
Choline:
33
mg
The post was originally published in January of 2016. Since it is so popular, it has been modified as of January 2023 to include more nutritional information and clearer instructions. Thank you for supporting me and my blog!