Recipe: $3.80 | Per Cookie (no icing): $0.13
It's Cookie Swap time!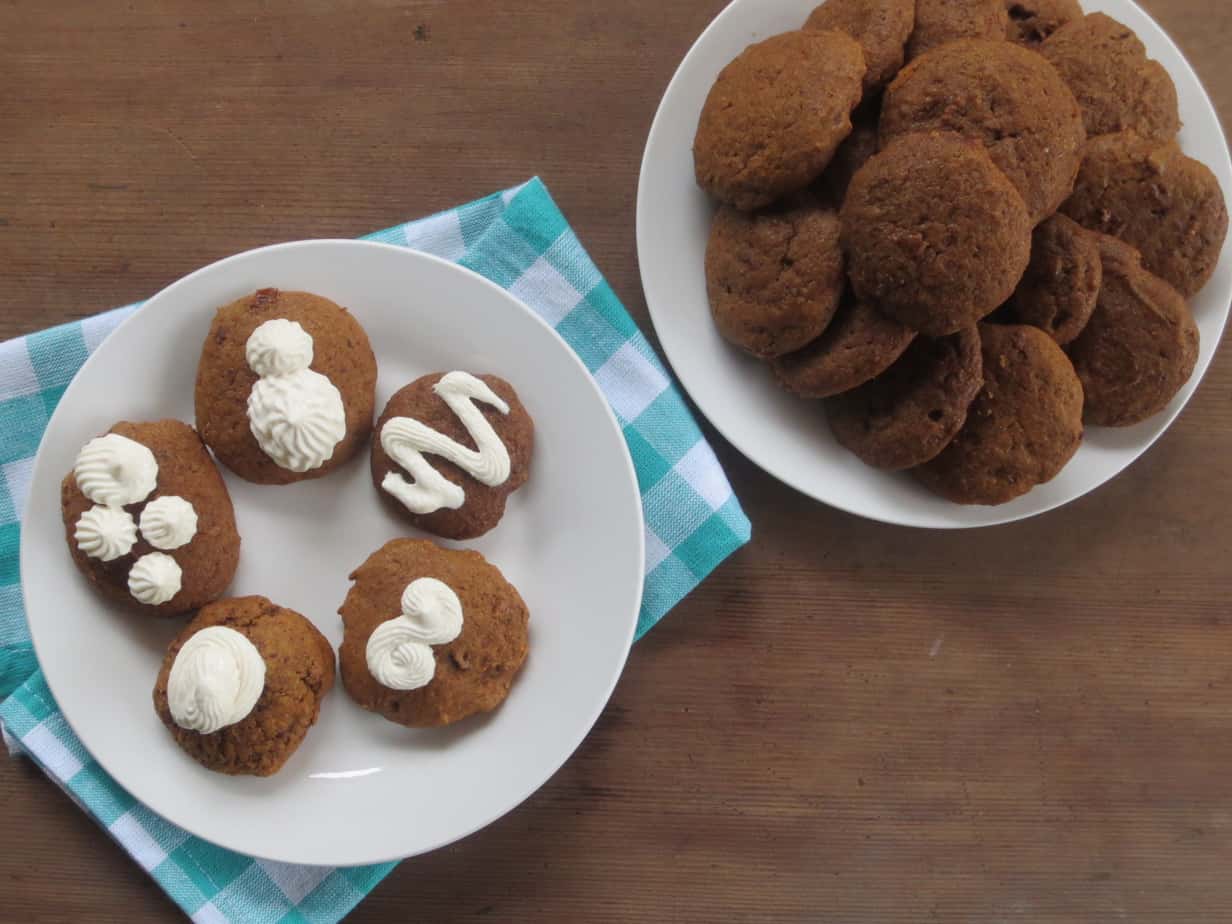 Every year, a few lovely ladies put together a very detailed cookie swap for food bloggers. With a small donation to Cookies for Kids' Cancer, and a commitment to making and eating about three dozen cookies, you're on your way to being a cookie-swappin' food blogger. (Interested in joining the Cookie Swap next year? Check it out.)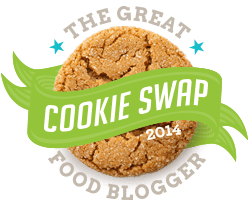 Since I have a bit of a "health & wellness" kind of food blog, I just couldn't settle with any standard sugar on sugar on sugar cookies to send out. Nope, I had to make about fifty batches of cookies until they tasted good without highly refined white sugar. Because you guys, these cookies are for BREAKFAST. Yep, that's what happens when you go for dates (um fruit, hello), and just a little maple syrup and molasses. Plus, anything with a cream cheese topping is obviously for breakfast. Just ask the bagels.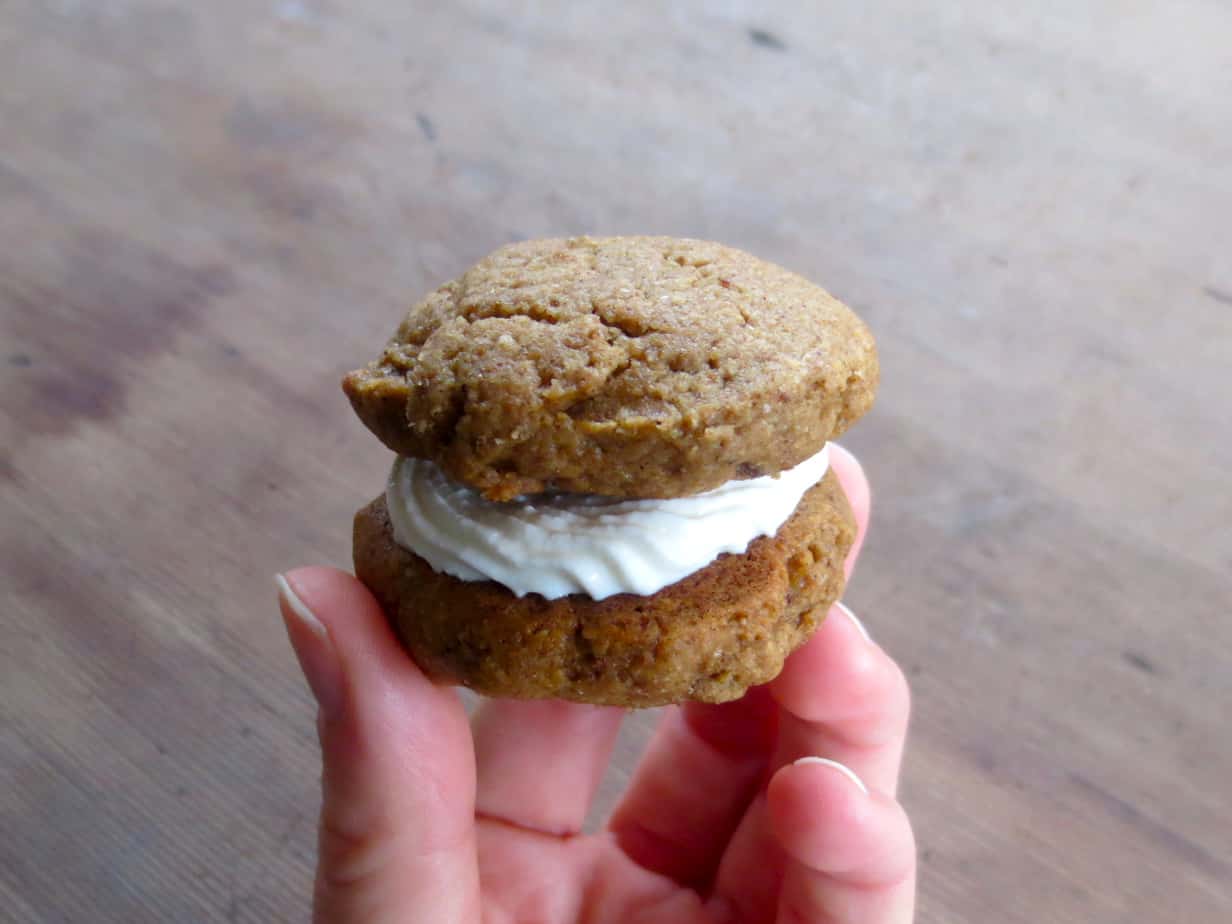 This cream cheese icing, spread, drizzle, what have you, is basically the best thing. It tastes like cheesecake, but it is super fantastically easy to make. You see, my Nana had a thing for spreads. If you think Club crackers with grape jelly is weird, you definitely need to try it. She seriously had a knack for combining some weird ingredients to nibble on in an effort to avoid actually cooking or eating a full meal.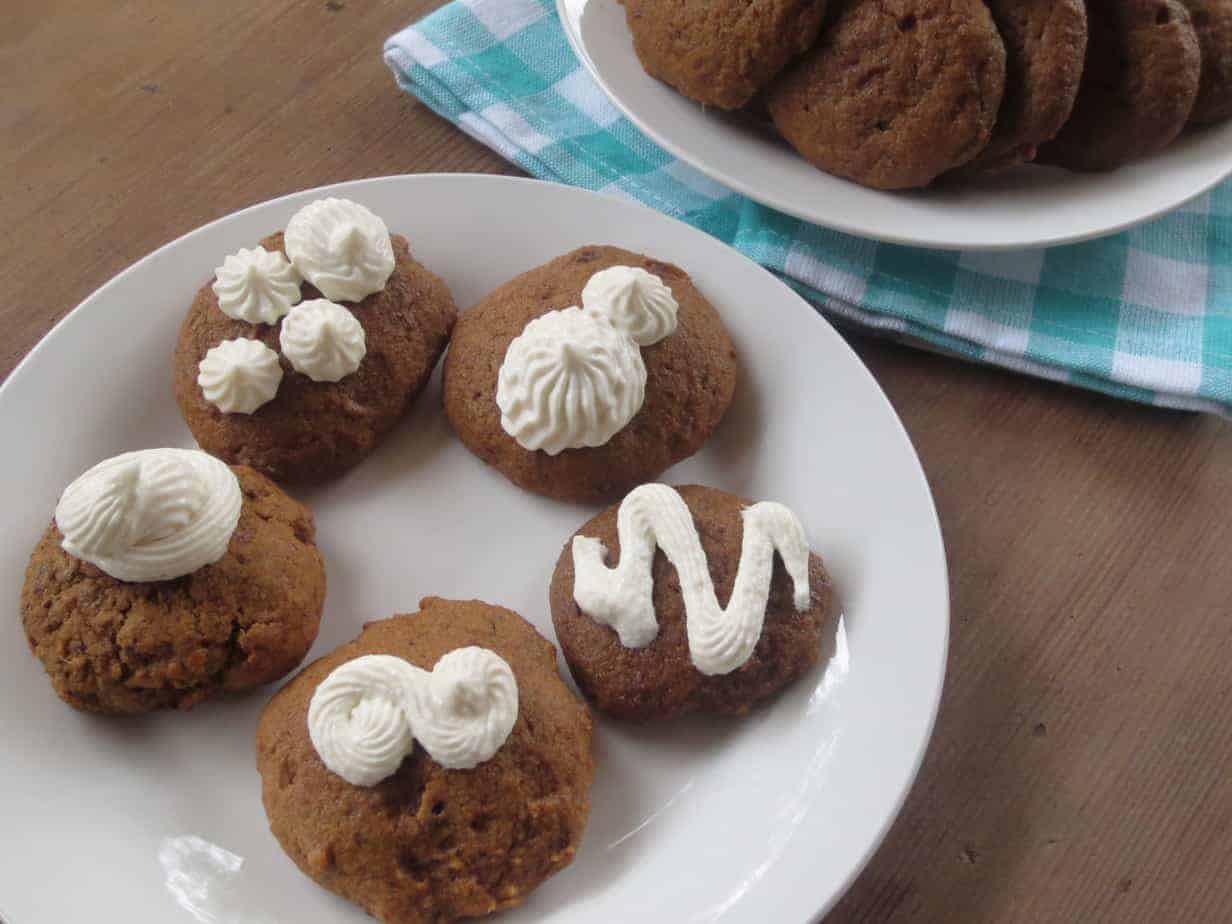 For years growing up I would make ginger snaps to take to Thanksgiving for my Nana. She LOVED those crunchy little cookies and always spread cream cheese on them. So, naturally, I had to include some cream cheese icing with this recipe. If she were still around, I would be sending these to her in a heartbeat.
Zac has been plowing through these cookies. Which means we ate them all in about 2.5 days.
I went back and forth between the allspice and the cloves, but I preferred the cloves. Feel free to change that up a bit if you'd like. And I highly recommend hitting up Sprout's for their bulk spices if you don't want a whole jar of these random spices. I can seriously just get like a teaspoon of ginger for a couple of cents. Although more expensive per ounce than Trader Joe's, if you just need a few teaspoons, it's worth it to buy less.
OXO is one of the sponsors for the cookie swap, and sent out this cute little icing decorator kit, and I have to say, it is awesome. These decorators are small and convenient, and they flip inside out so you can clean them, and you don't have to worry about pastry bags or anything! See?? A SNOWMAN!
I just want it to be someone's birthday so I can make a cake and write on it! This would have been so super helpful during those days when the kitchen people at my old restaurant would make us write "Will you Marry Me?" and "Happy Anniversary" in chocolate on dessert plates. I'm going to use these for all my fancy things. Like putting cream cheese on a bagel, or peanut butter on a banana, or making an Olaf pancake.
Anyway, COOKIES!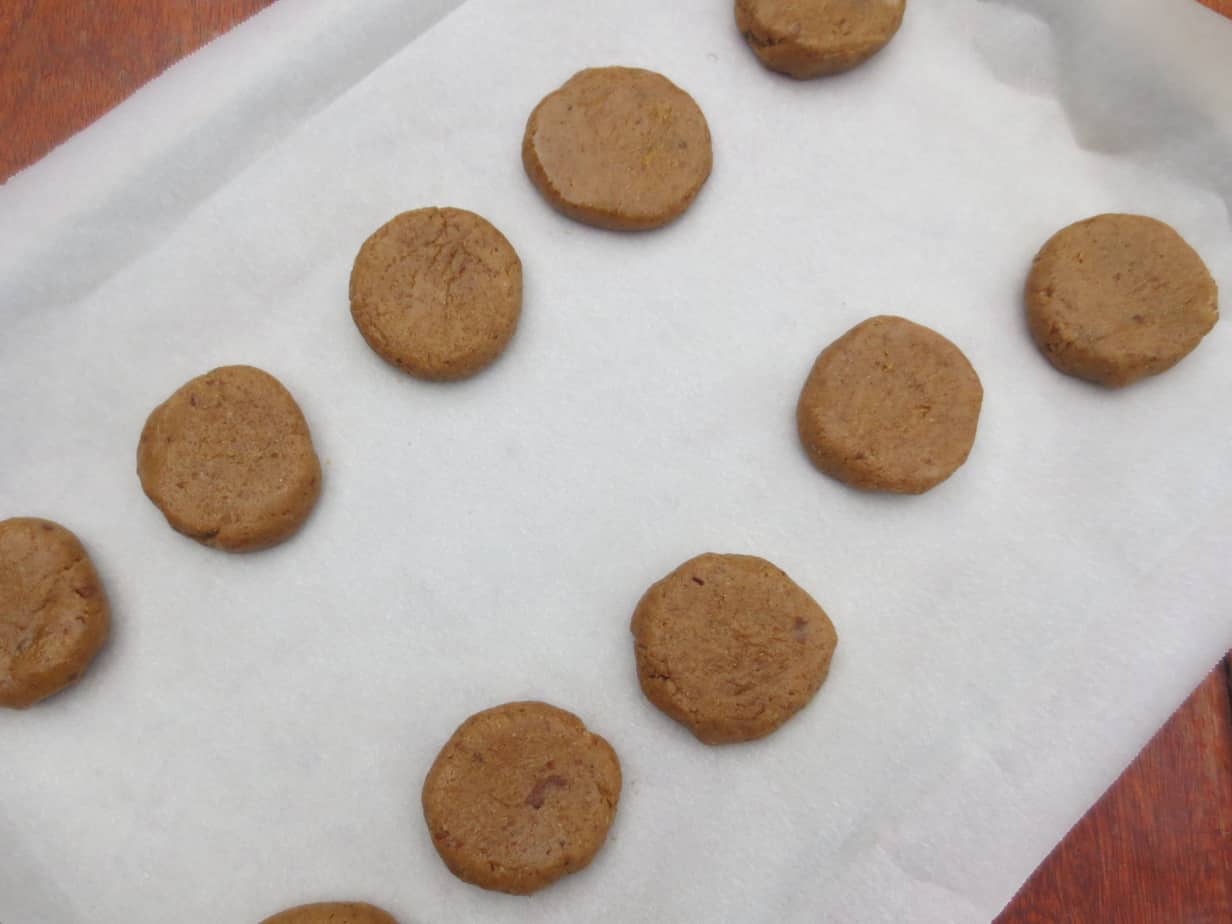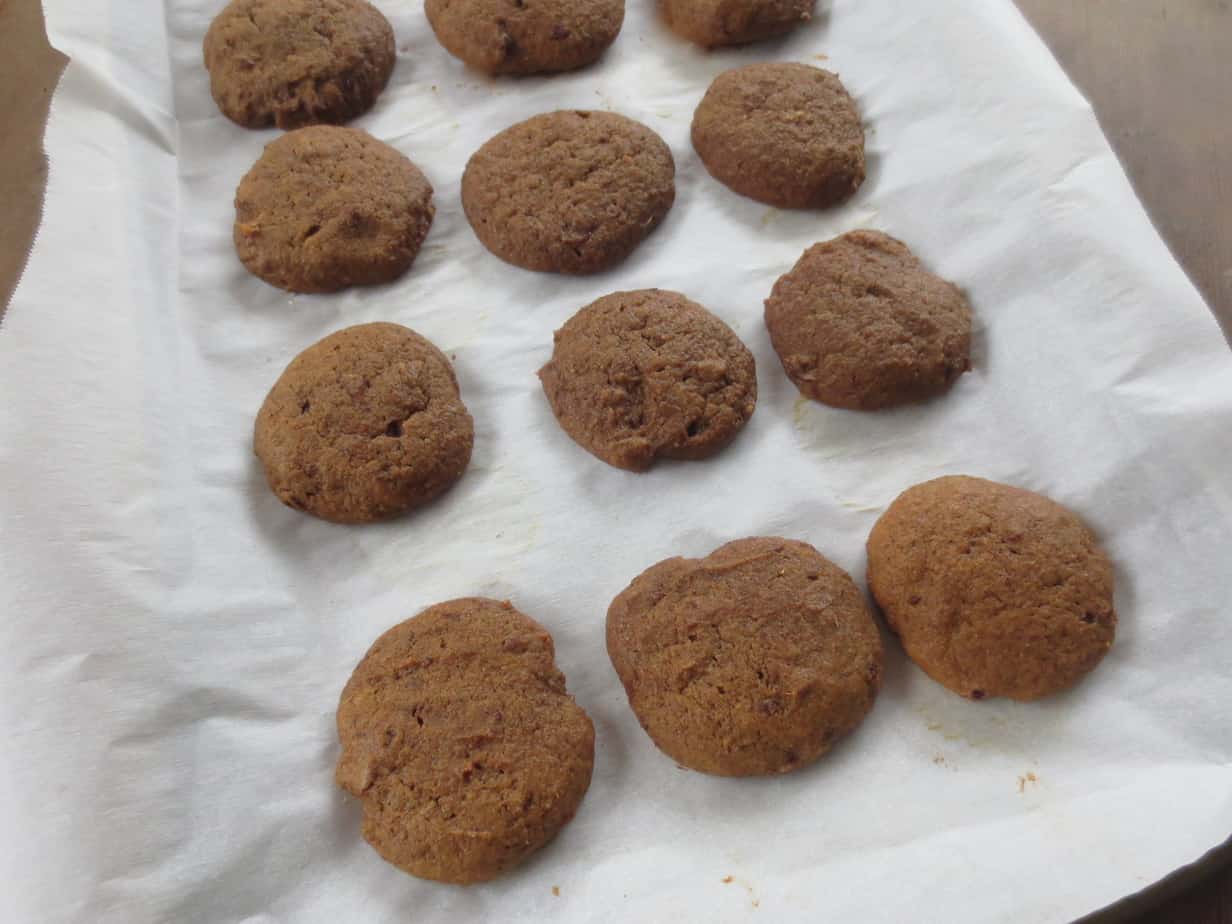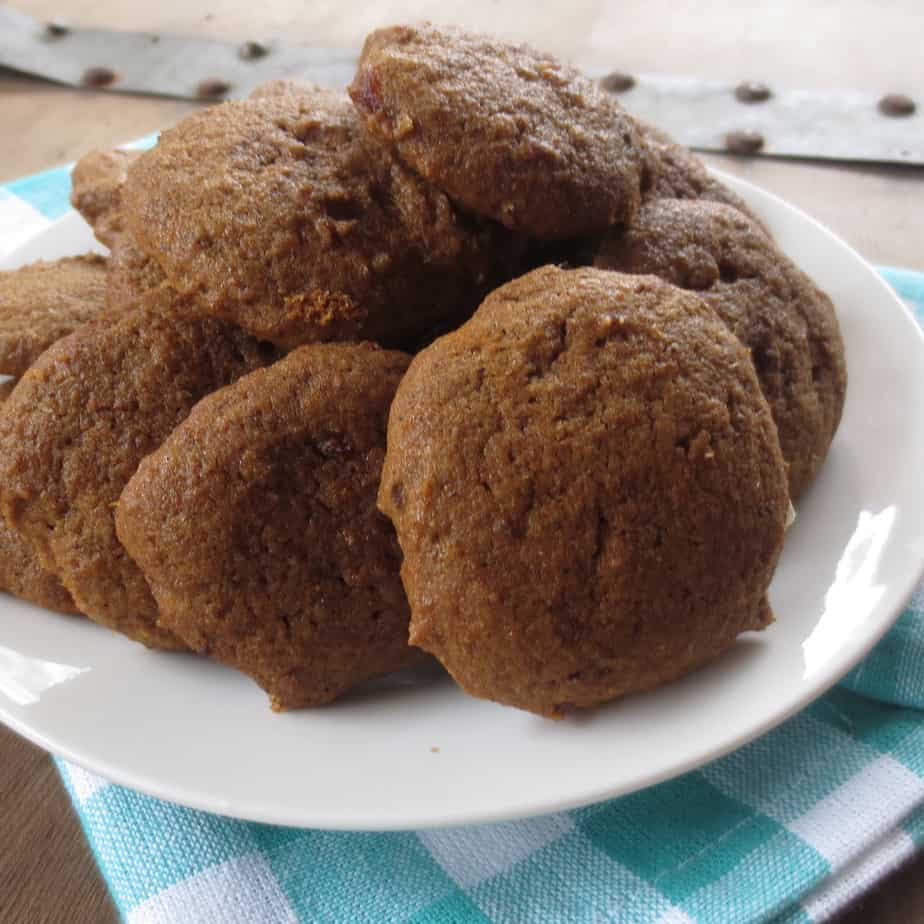 Spiced Ginger Breakfast Cookies
These ginger breakfast cookies are the perfect sweet addition to Christmas breakfast!
Ingredients
½

cup

butter

1 stick, softened

½

cup

date paste

see how to make date syrup

2

Tablespoons

blackstrap molasses

2

Tablespoons

maple syrup

Real, Grade B

1

large egg

1 ½

cups

whole wheat flour

½

teaspoon

baking soda

½

teaspoon

salt

1 ½

teaspoons

ground ginger

1

teaspoon

ground cinnamon

½

teaspoon

ground cloves or allspice

½

teaspoon

ground nutmeg
Cream cheese icing
4

ounces

cream cheese

half a pack

¼

cup

full-fat yogurt

1

Tablespoon

raw honey or maple syrup
Instructions
Whip the butter until nice and fluffy, then whisk in the date paste, molasses, maple syrup, and egg.

In a separate bowl, mix together the dry ingredients, then add to wet ingredients and mix well.

Place in fridge and let dough cool for 30-60 minutes.

Remove from fridge and roll out individual balls using 1 Tablespoon of dough, then flatten them on a parchment-lined baking sheet. (They don't really spread.) The dough will be sticky, so return it to freezer between batches.

Bake on 375ºF for 14-16 minutes.

For the Cream Cheese Icing: Soften the cream cheese and beat it until fluffy. Add yogurt and maple syrup, and let it chill in the fridge to firm up, then spread on cookies and serve immediately!

Note: For chewier cookies, replace the molasses and maple syrup with 2 Tablespoons brown sugar. I generally store these cookies in the fridge, especially if they have cream cheese icing!
Nutrition
Calories:
82
kcal
Carbohydrates:
9
g
Protein:
1
g
Fat:
5
g
Saturated Fat:
3
g
Polyunsaturated Fat:
0.3
g
Monounsaturated Fat:
1
g
Trans Fat:
0.1
g
Cholesterol:
18
mg
Sodium:
97
mg
Potassium:
74
mg
Fiber:
1
g
Sugar:
4
g
Vitamin A:
157
IU
Vitamin B1:
0.04
mg
Vitamin B2:
0.1
mg
Vitamin B3:
0.4
mg
Vitamin B5:
0.1
mg
Vitamin B6:
0.04
mg
Vitamin B12:
0.04
µg
Vitamin C:
0.03
mg
Vitamin D:
0.04
µg
Vitamin E:
0.2
mg
Vitamin K:
1
µg
Calcium:
16
mg
Copper:
0.04
mg
Folate:
5
µg
Iron:
0.4
mg
Manganese:
0.4
mg
Magnesium:
14
mg
Phosphorus:
34
mg
Selenium:
5
µg
Zinc:
0.2
mg
Choline:
9
mg