Recipe: $11.71
Per Serving: $1.17-$1.46
Disclaimer: The food for this post was provided by Whole Foods, but all opinions are mine.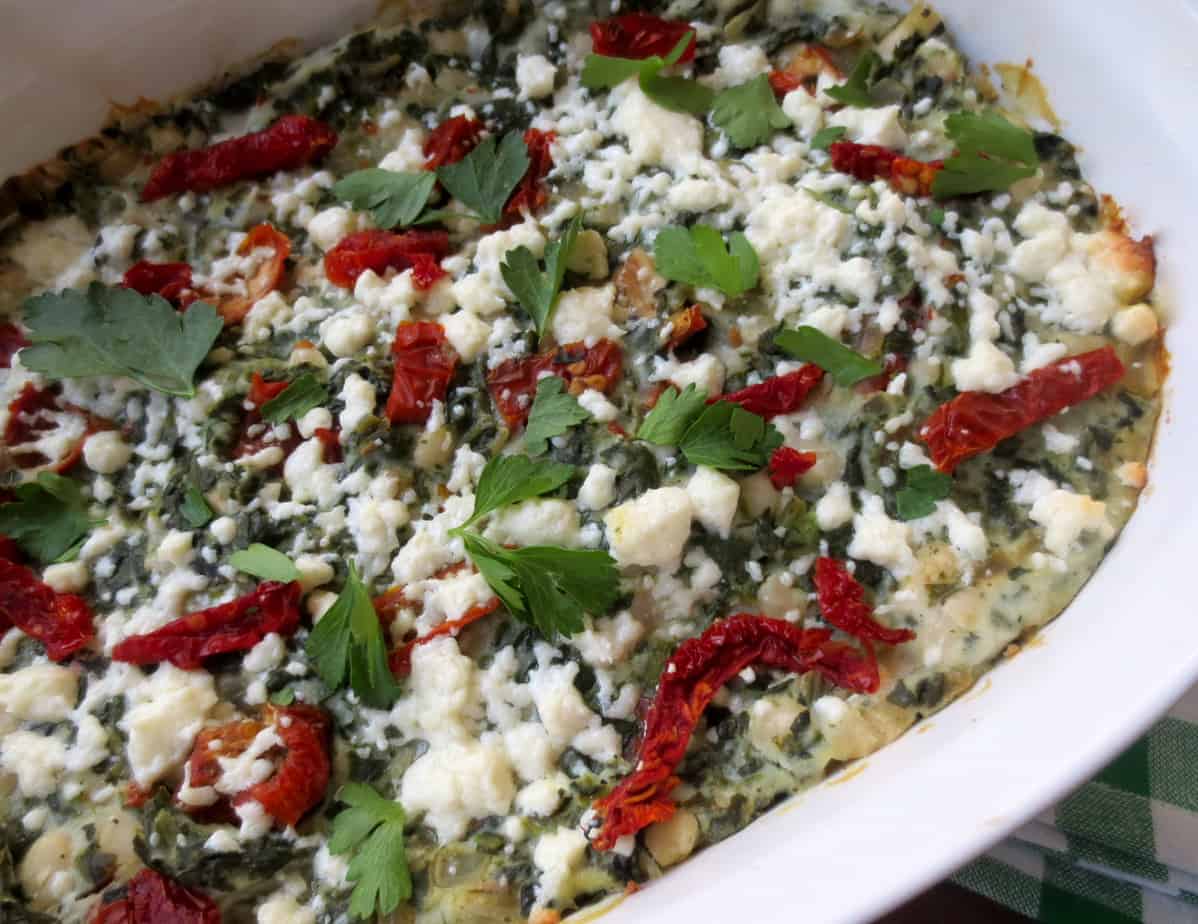 Sunday is my day off. It is the only 24-hour-period in which I don't have to be anywhere. This is sometimes a problem because Sunday also happens to be football day. Which means Zac doesn't want to do anything else. Football all day. Why can't Saturday be football day?
So, since we're stuck in the house most of the day, Sunday is also cooking day. It's kind of fun to whip up things like Lentil Bolognese, Whole Wheat Naan, or Chickpea Ratatouille and have a full fridge all week. Also, THIS: Red & Green Lasagna with Kale and Sun Dried Tomatoes. Especially when you make the lasagna into in cute individual portions. Lasagna Cups!
I used to hate making lasagna, because I would have to buy sausage and ground beef and three kinds of cheese and noodles that never quite fit my dish, and then I'd spend all day making sauce (or, sometimes, I'd buy several jars of sauce), and then I'd have this awesomely delicious dish that took 4 hours and contained somewhere around zero vegetables.
But then I started getting creative and making things like Quinoa Lasagna and Zucchini Pesto Lasagna on the regular. And things were better. And now, with Red & Green Christmas Lasagna, you're definitely NOT lacking in vegetables! Plus, you can even make your own HOMEMADE WHOLE WHEAT LASAGNA NOODLES for less than a dollar! That's like a quarter of the price of whole wheat lasagna noodles at the store.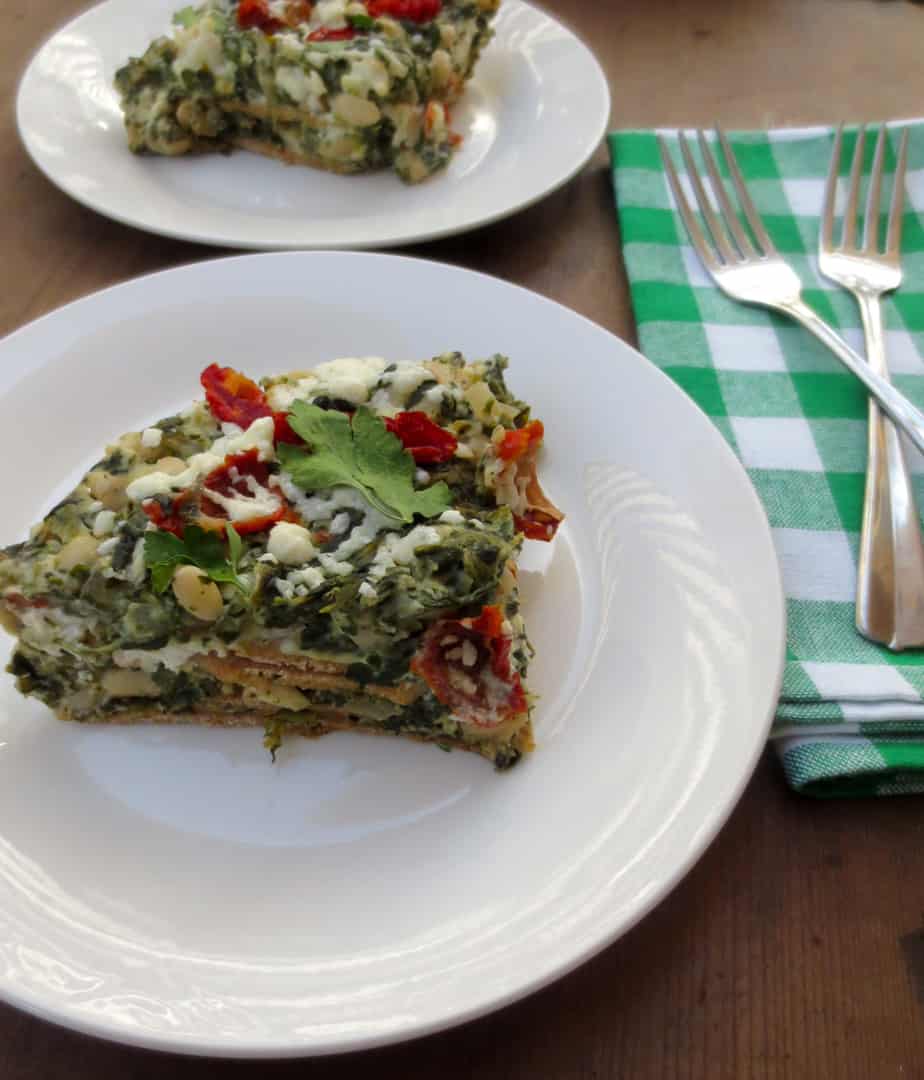 And now: so many WORDS. There are budget tips hidden in these paragraphs, I promise!
Whole Foods was generous enough to provide the ingredients for this post, and I wanted to come up with a healthy, but still budget-friendly meal using only Whole Foods ingredients. I don't do the majority of my shopping there, but I do go there for specialty items, specific types of flour, sugar-free dried fruit, and other things I can't find at other stores. I also think their meat and fish selection is the absolute BEST, and I love their different ratings so you know what you're getting. AND they have whole organic chickens for $2.99 a pound!
They definitely have some high-end items in their store, but if you know what you're doing, you can still get really great prices on things like all-natural peanut butter, local eggs, and whole wheat flour. When it comes to health food items, Whole Foods is actually cheaper than many mainstream grocery stores, simply because they have the volume to support lower prices.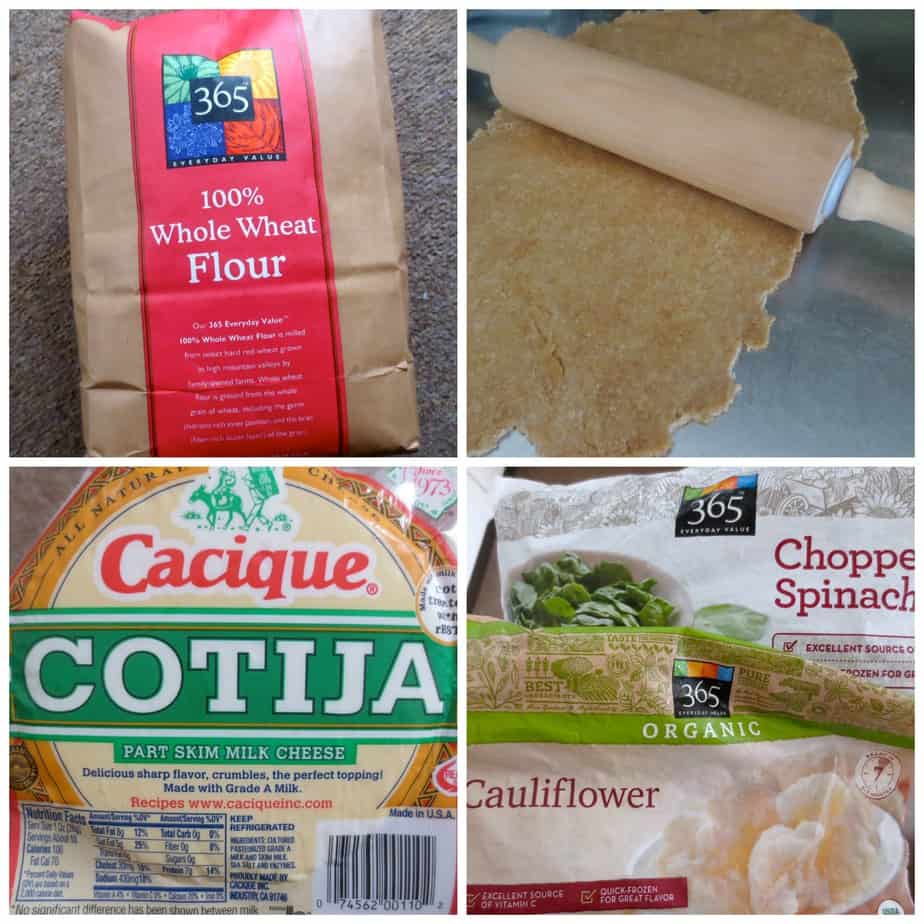 I was excited to find things like a pound of frozen cauliflower (SO CONVENIENT) for $1.99 and frozen spinach for $1.50. I've decided to include a list of the items I purchased to make this lasagna, but bear in mind that this made 8-10 servings of lasagna, with quite a bit of ingredients leftover. You could easily buy one extra bag of cauliflower (the only thing I was short on) and probably double the recipe. You can also use mozzarella or feta cheese with this, but cotija seemed to be the cheapest option, and I've used it for lasagna lots of times.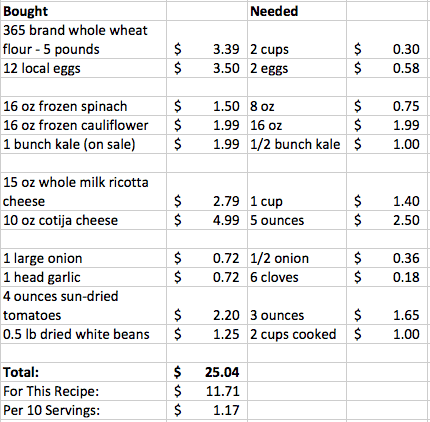 If you want to make pretty appetizers, this recipe will make about 30-40 lasagna cups, depending on how thin you roll your dough! We were able to get at least 10 servings out of this.
Finally, I also want to note that the simple recipe for these homemade lasagna noodles comes from the Good & Cheap cookbook by Leanne Brown! I added salt and used whole wheat flour. Thanks Leanne!
Print

Red & Green Lasagna With Kale and Sun Dried Tomatoes
---
Author:

Prep Time:

1 hour

Cook Time:

45 mins

Total Time:

1 hour 45 mins

Yield:

8

-

10

1

x
2 cups

whole wheat flour

2

large eggs

1/2 teaspoon

salt

2

–

6

Tablespoons water (I used 3)

16 ounces

frozen cauliflower

6

cloves garlic
olive oil

1/2

medium onion

8 ounces

frozen spinach

2 cups

kale

1 cup

sun dried tomatoes (

3 ounces

?)

2 cups

white beans (from about

1 cup

dry)

1 cup

ricotta cheese

5 ounces

cotija cheese
red pepper flakes
---
Instructions
First: Soak the beans overnight and then simmer on the stove for about 45-60 minutes.
For the Pasta: Mix two cups of flour with 1/2 teaspoon salt, and make a well in the center (use a large countertop or a bowl.) Add the eggs and mix well. It will be incredibly firm and crumbly, so add water, a Tablespoon at a time until it is uniform. I used 3 Tablespoons. Set aside to rest for 1 hour. To make noodles: Roll out the noodles! After the dough has rested, cut it in half and roll it out as thin as possible, flipping over occasionally. When you think it is thin enough, you're probably only halfway there! It will almost double once cooked. Cut into noodles (or circles) and repeat with second dough. Boil for approximately 5 minutes to hydrate it and make it tender.
For the Cauliflower Sauce: Cook frozen cauliflower for about 5 minutes, or until tender. (I brought it to a boil in a pot and it was soft enough.) Blend cauliflower with 6 cloves of garlic, and a little of the cotija cheese (about 1 ounce). Salt and pepper to taste, set aside.
For the Filling: Rehydrate sun-dried tomatoes in warm water for a couple of minutes. Sauté onions over medium heat until soft and fragrant. Add frozen spinach and kale, and saute just until wilted. Mix vegetables with sun-dried tomatoes, cooked white beans, and about half of the sauce.
For Lasagna in a pan: Add a little sauce to the bottom of a greased casserole dish. Layer in the following order: noodles, filling, ricotta, noodles, filling, remaining cauliflower sauce. Top with cotija (or mozzarella) cheese. Bake covered on 350º for 30-45 minutes.
For Lasagna Cups: Cut the dough into 24 round noodles using a glass or cookie cutter. Boil them for about 4 minutes, until just a little tender. (You can also skip the boiling step, but the noodles will be very firm.) Grease a muffin sheet and add a round noodle to each cup. Instead of layering, just mix together all of the fillings except the cotija/mozz and fill the muffin cups. Top with cheese and bake for about 18 minutes on 350º.
Category:

Entree, Appetizer