Recipe: $5
Per Serving: $1.25
Did you ever see that movie Forks over Knives? It had quite an impact in our home about two years ago. We watched it after a massive grocery store trip in which I bought wayyy more meat than I normally would because Zac was more of a meat-past-bacon kind of person back then. And immediately after watching the movie he declared he was vegan. Nope nope nope. NOT COOL. It was a challenging month together, right before our epic trip to Asia. Eventually he got over it and together we've found a healthier balance between forks and knives.
Which leads us to this recipe, which is adapted from the Oven-Baked Chickpea Ratatouille found on the Forks Over Knives website. Garbanzo beans are pretty popular down in Peru, and after reading this unique concoction of flavors, I decided to give it a shot. With a few price-related modifications, it was a hit right from the start! Between this, Hawaiian Lentils, and Quinoa Lasagna, we had plenty of go-to meals in South America. Not to mention all the homemade pizza and not-so-homemade chicken and french fries. For real, don't mention it. I love french fries.
An updated picture, December 2015.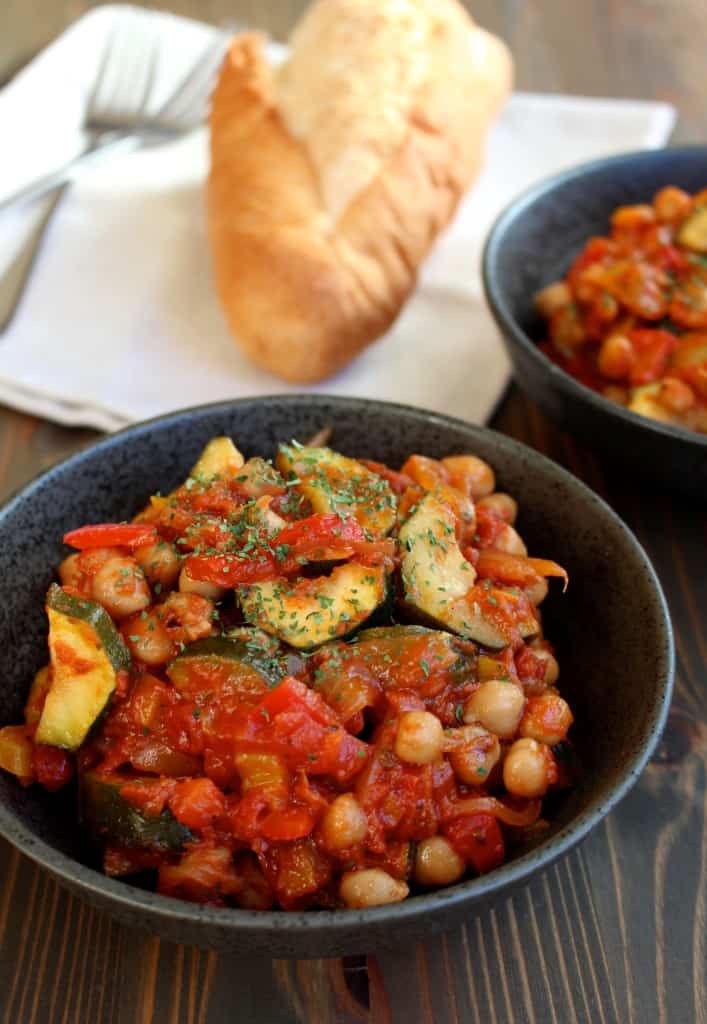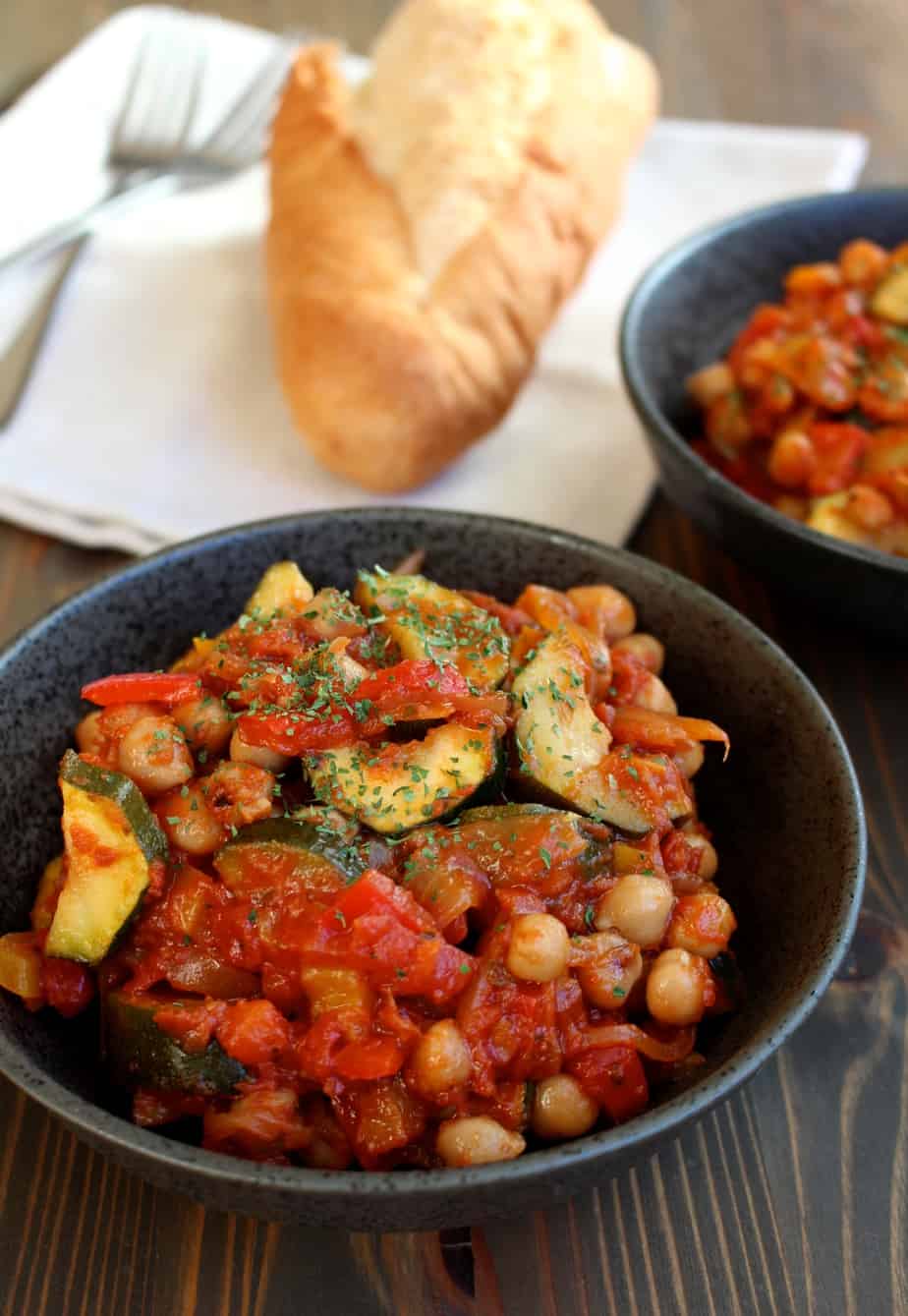 In Peru, I think the chickpeas were something like a dollar per pound, dried, which is a much better deal than buying them in the cans in the states. However, I made and priced this in the states over the weekend. Aaand accidentally bought organic chickpeas from dry (does anyone know anything about organic vs regular beans? I'll have to do some research.) and they were $3.49 a pound. That was slightly shocking, but it's okay. You win some, you lose some. Here's a price breakdown for ya:
1 cup dried chickpeas (cups cooked): $1.30
2 tomatoes (vine ripe organic): $1.50
organic yellow summer squash: $1
½ jalapeño (optional): $.08
bell pepper (optional): $0.50
½ small onion: $0.50
2 large cloves garlic: um, 5 cents?
fresh ginger: um, 5 cents?
oregano - negligible
crushed red pepper - negligible
apple cider vinegar - negligible
olive oil - negligible
The total cost of this meal, with mostly organic ingredients, comes to about $5. Also, the bell pepper came from a $4.50 bag of baby bell peppers, which is why it's so cheap. This recipe is about 4 large servings, but you could easily stretch it to 6 if you serve it with quinoa, whole wheat pasta, or homemade whole-wheat naan as we normally do. I'd also recommend using canned or jarred diced tomatoes, but I don't know enough about all the insanity with tomato acid and BPA and all that, and I haven't gotten around to doing the research. I'm in CA so we can still get decent tomatoes from AZ or Mexico all year (not very sustainable though).
Anyway, this is a somewhat spicy dish with a unique flavor profile, and I highly recommend it!

Chickpea "Ratatouille"
A healthy ratatouille with chickpeas and lots of veggies. It makes a perfect vegetarian weeknight dinner! Inspired by Forks Over Knives.
Ingredients
1

cup

dried chickpeas

— or about 2.5 cups cooked and drained

½

onion

med-large, diced

2

cloves

garlic

minced

½

cup

red bell pepper

sliced, optional

3

tomatoes

diced

1

zucchini

or summer squash, sliced or diced

2

tablespoon

apple cider vinegar

1

teaspoon

olive oil

1

teaspoon

oregano

1

tablespoon

freshly grated ginger

½

teaspoon

salt

½

lemon

juiced

ground black pepper

to taste
Instructions
Soak chickpeas overnight and simmer in a pot of water for 1 hour. (Or used canned & drained chickpeas.)

Mix all ingredients together in large bowl and pour into casserole dish.

Bake covered on 400 for 30 minutes.

Remove from oven, stir well, then return to oven for 45 minutes.

Remove from oven, let rest 5 minutes, and serve.

Notes: You can easily substitute jarred tomatoes for the fresh, and swap out any of the vegetables for whatever you have on hand. I often serve this with salad, quinoa, or whole-wheat naan. It's excellent with pasta as well!
Nutrition
Calories:
233
kcal
Carbohydrates:
39
g
Protein:
12
g
Fat:
4
g
Saturated Fat:
1
g
Polyunsaturated Fat:
2
g
Monounsaturated Fat:
1
g
Sodium:
314
mg
Potassium:
872
mg
Fiber:
11
g
Sugar:
11
g
Vitamin A:
1492
IU
Vitamin B1:
0.3
mg
Vitamin B2:
0.2
mg
Vitamin B3:
2
mg
Vitamin B5:
1
mg
Vitamin B6:
1
mg
Vitamin C:
50
mg
Vitamin E:
2
mg
Vitamin K:
19
µg
Calcium:
86
mg
Copper:
1
mg
Folate:
317
µg
Iron:
4
mg
Manganese:
1
mg
Magnesium:
83
mg
Phosphorus:
237
mg
Selenium:
5
µg
Zinc:
2
mg
Choline:
62
mg