Exciting news: I got into grad school last week! Not exciting news: I have to start paying for grad school in the fall. Which calls for some severe tightening of the budget. In an effort to cut back on our spending, I've decided to drop our grocery budget down to $60 a week for the two of us. We're starting with a 4-week experimental phase, in which I hope to spend only $50 each week since we do have pantry items and a mostly full freezer. I'm going to be posting some weekly recaps of how we're doing, and what recipes we're making. Hopefully it will be very helpful for us and all of you! If you have any favorite budget-friendly meals, please let me know in the comments below!
Weekly Meal Plan: July 18th - July 22nd
This is a recap from last week, even though it's a Monday - sorry! You can easily whip most of this together on a Sunday and then re-heat throughout the week. Making the homemade buns was definitely easy, and required mostly hands-off time, but if you're not that committed to from-scratch meals, then you can easily skip the buns, or buy them from the store.
I spent $40 at the grocery store and the farmer's market last week to make the following items. We already had feta, lentils, and rice on hand, as well as the rice cakes and peanut butter that we added to one of our breakfasts, so that would have cost about another $10.
The Meals:
Breakfast: We made Zucchini & Tomato Summer Frittata and Mashed Banana Oatmeal. The frittata cut into 6 portions just wasn't filling enough on its own, so we supplemented each of the three days with one of the following: 1 rice cake with peanut butter, 1 whole wheat everything bagel slim with cream cheese, and 1 strawberry-banana-kale smoothie. I loved having the frittata, but next time I would make a batch of waffled hash browns or avocado toast to pair with it.
Even though I'm not a huge fan of oatmeal in general, I do really like mashed banana oatmeal, and topping it with blueberries or raspberries makes it awesome! We ate this on Monday and Friday.
Lunch & Dinner: We ate the same meals for lunch & dinner, just with slightly smaller portions for lunch, paired with bento snacks for me and a PB&J for Zac.
In the past I've paired these lentil-turkey burgers with Avocado-Yogurt sauce, but I decided to try a super cheap alternative: Vegan Sriracha Aioli, made using aquafaba instead of egg yolks. It worked perfectly, and I'll be posting the recipe soon! This was a very filling dish, and my favorite component was probably the caramelized onions & kale. Weird, I know, but caramelized onions make everything delicious.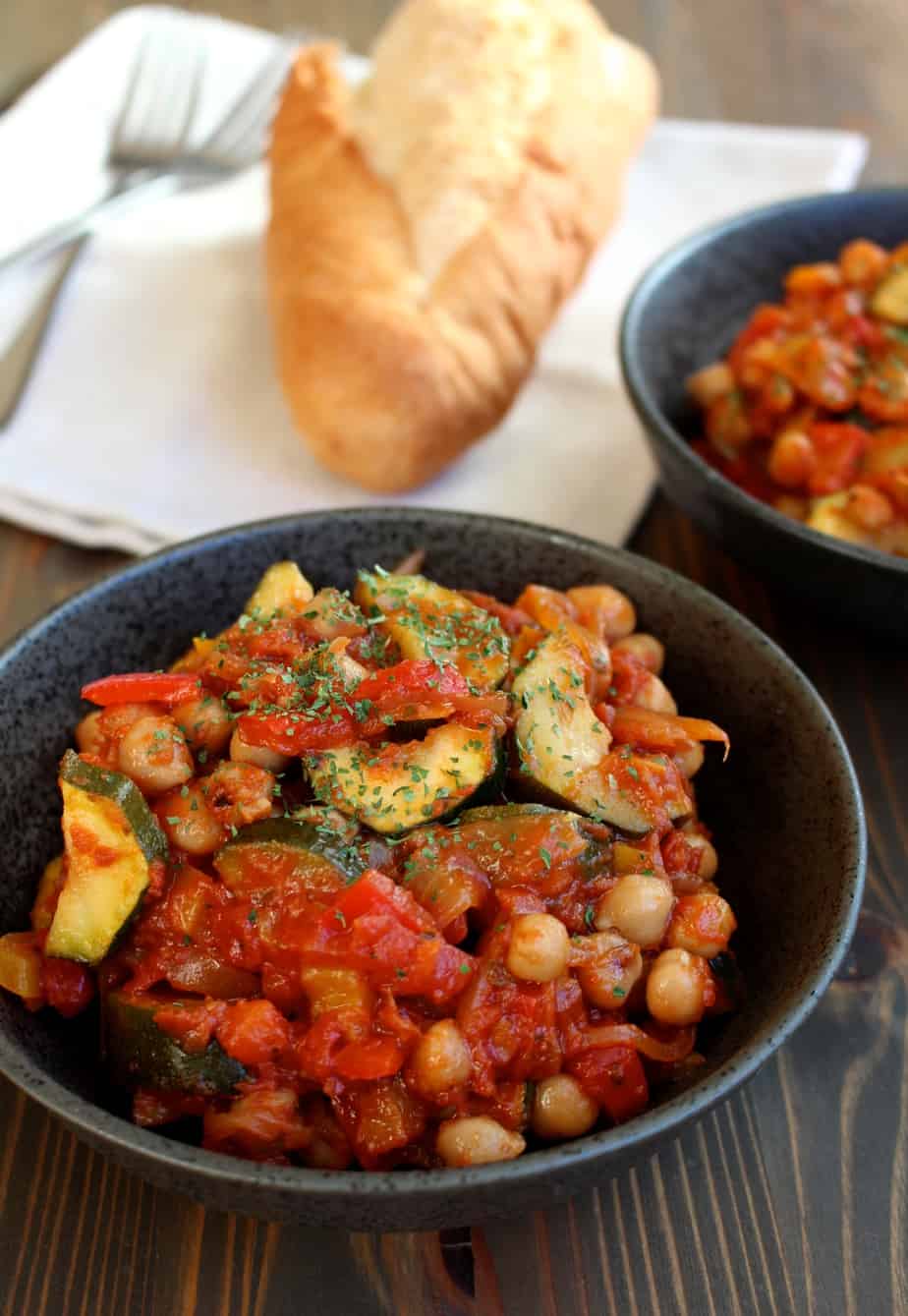 This chickpea ratatouille dish is one of the first dishes I made for the blog, and still one of my favorites. Making it with fresh market tomatoes made all the difference this week! We had 3 pitas in the freezer that we paired this with, and I actually had 1 serving of pasta that I tossed together with this one night. Cheating a little bit in terms of perfect meal planning and budgeting, but it was week 1!

I honestly wasn't intending to have 3 vegan dishes this week, but it just somehow happened that way. Probably because dairy & meat are the most expensive items you can buy. However, this vegan stir fry knocked it out of the park! I loved the gingery flavor and I was super happy with the portobellos. 
Cauliflower & Black Bean Tacos
I was a little worried on Wednesday night that we wouldn't have enough food so I decided to throw together some Cauliflower & Black Bean Tacos using items we had on hand: frozen cauliflower, lime juice, corn tortillas, black beans, cumin, onions, and queso fresco. They were super awesome, but of course it was a last minute Wednesday night dinner, so I didn't think to take pictures to include here. I like that it used mostly pantry items, so I might try it again in the future!
Added Snacks: carrot sticks, bananas, cucumber slices, clementines, dark chocolate, and Zac ate a peanut butter & jelly sandwich each day as part of his lunch, because he doesn't usually have a snackbox of fruits & vegetables
I'm a snacker, and I get a lot more joy out of my workday when I have a lot of variety in my lunch box. Carrots & cucumbers are super cheap, and I stocked up on some dark chocolate from Trader Joe's, so I was pretty happy. 
Take aways: This was actually really easy. It took a chunk of time on each Saturday and Sunday, but I was still able to do plenty of weekend activities (like a long run and an escape room!). It was nice to always have something ready in my fridge throughout the week, and I never had to worry about what to pack for lunch. With the added cauliflower tacos, we ended up with a few extra lentil burgers and buns leftover that I stuck in the freezer for some other time. (We finished the kale, potatoes, and aioli though.) We're definitely cheating a little bit because we have a lot of pantry items, but I'm happy with the result of our first week.
Here's the full list of dishes and recipes that I made for this weekly meal plan, which stayed under the $60 budget:
Zucchini & Tomato Summer Frittata (with feta & onions)
Mashed Banana Oatmeal (with blueberries)
Lentil Turkey Burgers, Whole Wheat Buns, Roasted Potatoes, Caramelized Onions & Kale, Sriracha Aioli
Vegan Chickpea Ratatouille, with Whole Wheat Pitas
Vegan Portobello & Zucchini Stir Fry
Plus: Cumin-Lime Cauliflower & Black Bean Tacos
Snacks: carrot sticks, bananas, cucumber slices, clementines, dark chocolate, and Zac ate a peanut butter & jelly sandwich each day as part of his lunch, because he doesn't usually have a snackbox of fruits & vegetables.
Breakfast add-ons: Rice cakes with peanut butter, bagel thins with cream cheese, strawberry-banana-kale smoothie
And on to the next one!