Lemon date balls are high protein and low sugar energy balls that will brighten up your bento boxes and snacks all year long! Made with fresh lemon, nuts, and hemp seeds, these nut and date bites are super delicious.
Recipe: $4.52 | Per Serving: $0.38 | Yields: 12 (0.80 oz each)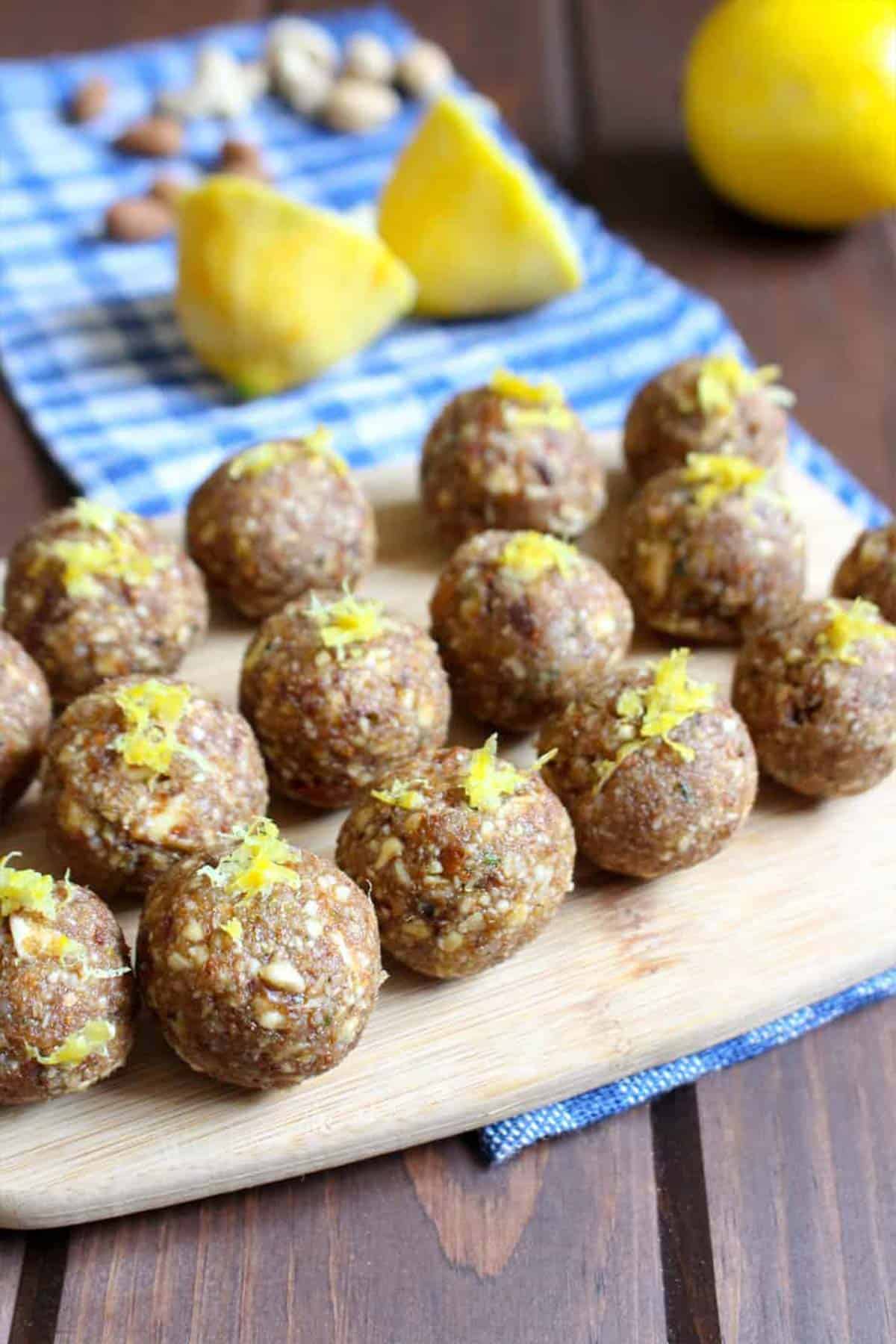 These perfect little lemon energy balls are tweaked to be: lower in sugar, higher in protein (without a powder), and even more delicious.
Wondering how I did it?
I increased the ratio of dates to nuts by using more nuts to balance the sugar in the dates.
To compensate for less sweetness, I used a splash of vanilla extract to add some sweetness without any sugar.
I added hemp seeds for more plant-based protein.
Lots of lemon juice and zest to make sure there was plenty of flavor.
Jump to:
Why You Will Love Lemon Protein Balls
Lemon bliss balls are suitable for a wide variety of diets including paleo, gluten-free, Whole30, vegan, and vegetarian!
Better than lemon Larabars! While I appreciate that the storebought version is made with few ingredients, they are often high in sugar and low in protein. Since they're not well-balanced, they are more likely to spike your blood sugar.
Great lemon flavor thanks to both the lemon juice and zest.
Lemon date balls are perfect for meal prep. Make a batch to freeze and then pull them out as you need them.
Kid and adult friendly! They work great for a lunch box snack or a pre/post-workout energy boost.
Ingredients You Need
Like most energy balls recipes these lemon paleo energy balls are mostly made with nuts and dates. This lemon date balls recipe requires six simple ingredients:
Nuts: I'm using a combination of almonds and cashews.
Hemp seeds: These are the secret, protein-packed ingredient!
Fresh lemon: You will be using both the lemon zest and juice so fresh is required.
Dates: Buy pitted to make this recipe easier. If you end up with pits in them, make sure you remove them before making this recipe.
Vanilla extract: Adds natural sweetness and flavor without any sugar.
Substitutions and Variations
Nuts: You can use just almonds or just cashews but I like the combination for the consistency they provide. If you want to use other nuts, you can also use pecans or walnuts.
Bars or squares: Press the mixture into a square dish and then cut them as desired. Personally, I like the balls because they're easy to freeze and pop in my lunch box.
Cut them into shapes for kids: Roll them out into a flat sheet and cut out shapes or smash them into molds with different shapes.
How to Make Lemon Energy Balls
The best thing about making these lemon snacks is how simple they are! You can make them in a food processor or by hand.
Place all the ingredients in a food processor and pulse until well combined. Make sure to keep a little texture.
Scoop the mixture into one tablespoon-sized portions. Roll each one between your palms until balls are formed.
Watch it Step-by-Step!
TOP TIP: If you don't have a food processor you can also make them by hand. Soak the dates (especially if they're hard) in hot water for one minute. Then chop the dates manually on a cutting boarding. Choose sliced or slivered almonds instead of whole. Carefully chop the almonds and cashews along with the dates until they're well mixed.
How to Store Lemon Energy Bites
Room temperature: You can store these in a cool place at room temperature for up to five days.
Refrigerator: To extend the shelf-life, store protein balls without oats in an airtight container in the fridge for up to two weeks.
Freezer: Lay them out on a baking tray and freeze. Once they're frozen, transfer them to a container or storage bag and store them in the freezer for up to three months. They will thaw out at room temperature within an hour or two.
Expert Tips and FAQs
Use a food processor to make lemon bliss balls in the least amount of time.
Use fresh lemon for the juice and zest so you get the most intense lemon flavor.
Roll the balls in more hemp seeds for an extra garnish and more protein.
Healthy lemon balls are a great way to start adding nuts to your toddler's diet!
How can you use less sugar in energy balls and date bites?
Cut back on the dates. Add an ingredient with the aroma of sweetness, like vanilla extract. Last, boost the flavor with ingredients such as lemon juice, cocoa powder, coconut butter, or melted butter.
How can I make date bites without nuts?
The best alternative is to replace the nuts with seeds like sunflower seeds and pumpkin seeds. You can also use shredded coconut or oats. Try these flax and pumpkin seed energy bites or these healthy cookie dough bites made with rolled oats and sunflower seed butter.
Dietary Modifications
Paleo: Lemon date bites are Paleo!
Vegetarian and Vegan: Yes, these are totally vegan.
Gluten-free: Yep!
More Healthy Snack Recipes
Did you like this recipe? If so, please take a moment and give it a 5-Star ⭐️⭐️⭐️⭐️⭐️ review and leave a comment further below! Don't forget to follow me on Facebook, YouTube, Instagram, and Pinterest for more delicious recipes!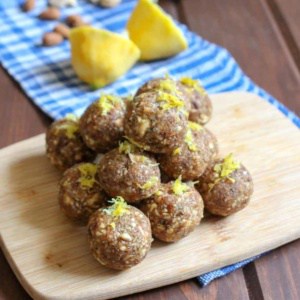 Lemon Date Balls (Paleo, Gluten-Free)
These delightful lemon energy bites pack over 3 grams of protein and just under 6 grams of sugar - making them perfect for both busy adults and high-energy children! These lower-sugar, higher-protein bites are a well-balanced sweet treat with plenty of healthy fats, delicious enough for dessert and balanced enough for anytime!
Ingredients
½

cup

dates

pits removed

½

cup

raw cashews

½

cup

raw almonds

¼

cup

hemp seeds

2

tablespoons

lemon juice

1

tablespoon

lemon zest

¼

teaspoon

vanilla extract

pinch

sea salt
Instructions
Add all ingredients to food processor and blend until desired consistency is reached, stopping to scrape down sides as needed. I like mine more textured, so I blend and scrape until the dough sticks together, but while there are still chunks of nuts!

To make these without a food processor: soak the dates for 1 minute. Mash with a fork or chop on cutting board. Carefully cut nuts with a sturdy knife. Combine all ingredients in a large bowl.

Scoop into approximately 1 Tablespoon-sized chunks. Roll between your two palms until balls are formed and store in refrigerator or freezer. Optionally: you can top each with lemon zest or roll the balls in more hemp seeds.
Notes
Use a food processor to make lemon bliss balls in the least amount of time.
Use fresh lemon for the juice and zest so you get the most intense lemon flavor.
Roll the balls in more hemp seeds for an extra garnish and more protein.
Healthy lemon balls are a great way to start adding nuts to your toddler's diet!
I usually store these babies in the freezer since they don't freeze solid so I can pop one out and eat it anytime, but they usually end up in my bento boxes for lunch!
Nutrition
Calories:
107
kcal
Carbohydrates:
8
g
Protein:
4
g
Fat:
7
g
Saturated Fat:
1
g
Polyunsaturated Fat:
3
g
Monounsaturated Fat:
3
g
Trans Fat:
0.001
g
Sodium:
1
mg
Potassium:
123
mg
Fiber:
2
g
Sugar:
5
g
Vitamin A:
23
IU
Vitamin B1:
0.1
mg
Vitamin B2:
0.1
mg
Vitamin B3:
0.5
mg
Vitamin B5:
0.1
mg
Vitamin B6:
0.04
mg
Vitamin C:
2
mg
Vitamin E:
2
mg
Vitamin K:
2
µg
Calcium:
27
mg
Copper:
0.2
mg
Folate:
6
µg
Iron:
1
mg
Manganese:
0.2
mg
Magnesium:
35
mg
Phosphorus:
111
mg
Selenium:
2
µg
Zinc:
1
mg
Choline:
4
mg
This post was originally published in August of 2018. It has been updated to include more information and a link to my YouTube video, but the recipe has not been changed. Thank you for being here!