Recipe: $1.50
Per Serving: $0.75
I completely forgot how San Diego tends to have super sunny days in January. You know, when it is winter in the rest of the Northern Hemisphere. We left a rainy, chilly San Diego in December, and returned in January to its super sunny and summery friend. Which means: it's totally okay to start your day with a green smoothie!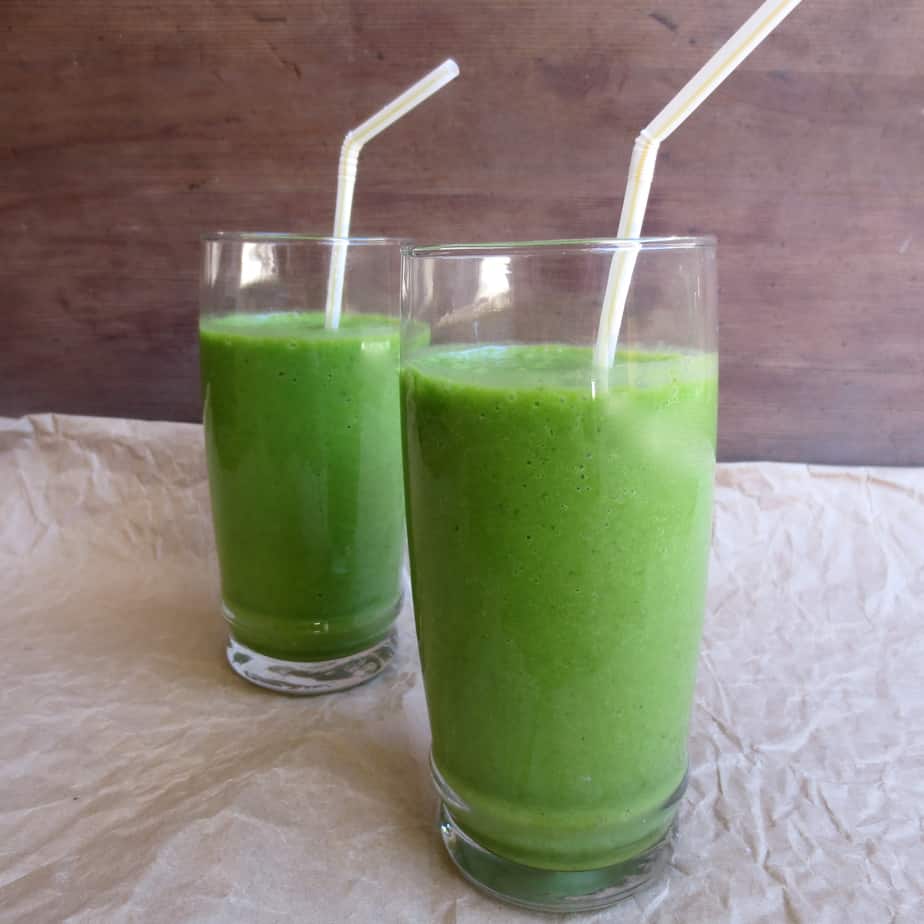 This time last year we were in the midst of a Green Smoothie 30-Day Challenge. I was still a baby blogger, so I didn't know what I was writing about, but I loved sharing the price breakdowns and a couple of our favorite recipes. You can drink a green smoothie every day for less than $1! My #1 favorite recipe never actually made it on the blog, so with all that delicious homemade coconut milk, I thought I'd go ahead and post it.
Full disclosure: last year I would ALWAYS buy the frozen mango chunks at Trader Joe's for $2.69. I'm not sure if they've just discontinued them, or if they can't get cheap mangos, but I haven't found them for the last couple of months. When your mangoes go on sale, just buy a big juicy one and that should be more than enough for this 2-person smoothie recipe. Sad days without frozen mango chunks.
There's good news though: you can also supplement with pineapple! I made this using Trader Joe's frozen pineapple tidbits a few times and it was still delicious. In the future, I'd probably do ½ fresh mango and ½ frozen pineapple to cut back on the cost but still get that mango flavor. ALSO, I found that frozen pineapple blends much much better than fresh pineapple. The fresh stuff tends to stay a little stringy. You can also freeze the coconut milk in an ice cube tray if you like a very cold smoothie. (About 8 cubes equals ½ cup.)
This mango-coconut spinach smoothie is also a crowd-pleaser. We hosted a 12-person brunch before a group wine tasting day and every single person drank a mango spinach smoothie. Even the people who had never seen a green smoothie before were into it. WIN.
Okay, here's the super simple tropical spinach smoothie recipe. Enjoy!
Mango (or Pineapple) Coconut Spinach Smoothie
This spinach smoothie with mango and coconut is the perfect way to sneak some veggies into your breakfast or snack. This easy smoothie recipe travels well and takes just moments to prepare.
Ingredients
3

cups

fresh spinach

packed

1

cup

water

1

small banana

¾

cup

mango chunks

or pineapple - best if frozen

½

cup

canned coconut milk

see homemade coconut milk here

Optional: add 2 scoops collagen or 2 Tablespoons hemp seeds for added protein
Instructions
Add the water and spinach to the blender and blend until pureed, stopping and pushing down the spinach if necessary.

Add remaining ingredients: banana, mango, coconut milk, (optional added protein) and blend until smooth.

Pour into two large glasses and serve!
Notes
Note: If I just need one serving, I still make 2 servings and store the 2nd in an airtight glass jar for 12-24 hours and then drink immediately after opening it.
Protein: If you want this as a meal replacement, I HIGHLY recommend adding protein to avoid a sugar bomb. I like collagen because it is completely flavorless, but hemp seeds or ground hemp seeds are also great here for a vegan option.
Servings: If pairing with a meal, can easily split this into 4 servings!
Nutrition
Calories:
230
kcal
Carbohydrates:
26
g
Protein:
4
g
Fat:
15
g
Saturated Fat:
13
g
Polyunsaturated Fat:
0.3
g
Monounsaturated Fat:
1
g
Sodium:
52
mg
Potassium:
694
mg
Fiber:
5
g
Sugar:
17
g
Vitamin A:
4921
IU
Vitamin B1:
0.1
mg
Vitamin B2:
0.1
mg
Vitamin B3:
2
mg
Vitamin B5:
0.4
mg
Vitamin B6:
0.4
mg
Vitamin C:
41
mg
Vitamin E:
2
mg
Vitamin K:
220
µg
Calcium:
67
mg
Copper:
0.3
mg
Folate:
134
µg
Iron:
2
mg
Manganese:
1
mg
Magnesium:
79
mg
Phosphorus:
102
mg
Selenium:
5
µg
Zinc:
1
mg
Choline:
23
mg