Looking for an easy way to achieve that gooey poached egg goodness? Use these silicone baking molds to achieve the perfect poached eggs! Not only are they easy and cooked to perfection - they're also the most aesthetically pleasing poached egg you'll ever make.
Recipe: $0.75 | Per Serving: $0.75 | Yield: 1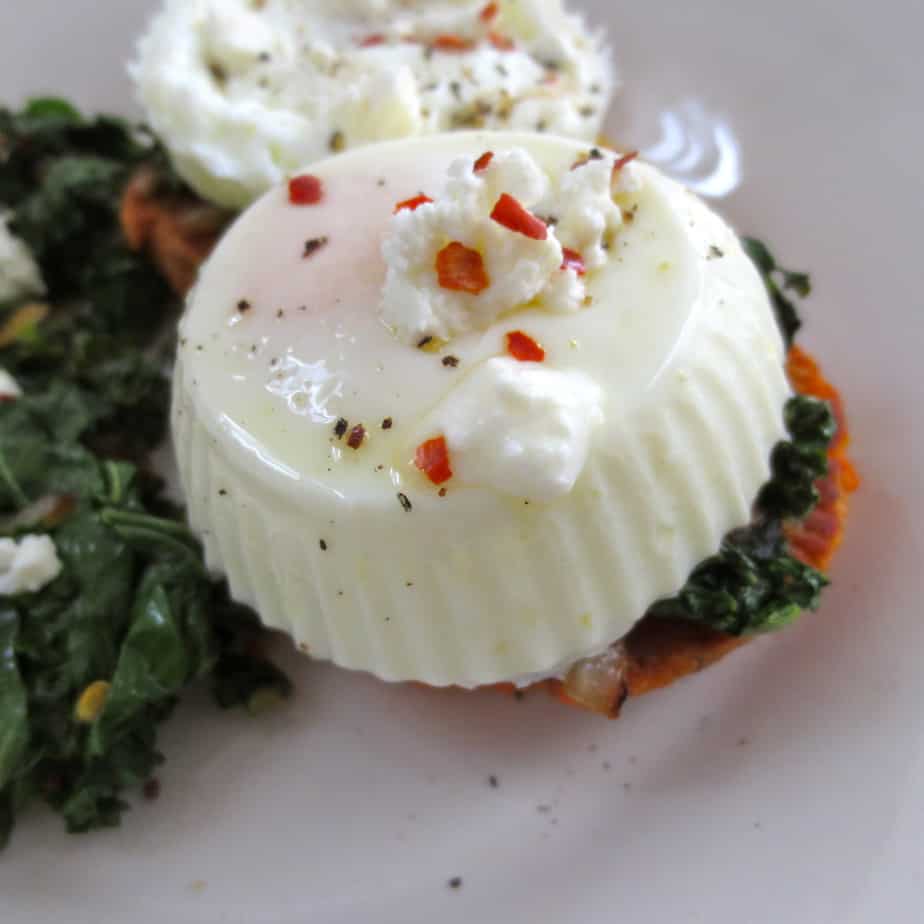 My favorite egg? Poached. We normally eat scrambled eggs, since that's Zac's preference, but I've gotten super into poached eggs over the last year or so, and that is my method of choice. Sadly, I'm not particularly good at the traditional method.
The internet is ripe with tips...use vinegar, drain out the excess watery "white" part, use a mason jar lid ring, and swirl it with a spoon. There are so many options and never enough patience to get them right (I did like Pinch of Yum's tip to use a mason jar lid since it was pretty simple, but it left our eggies tasting a little metallic and I was not into that).
Life-changing solution? Silicone baking molds. Now I can make the easiest and cutest poached eggs I've ever seen.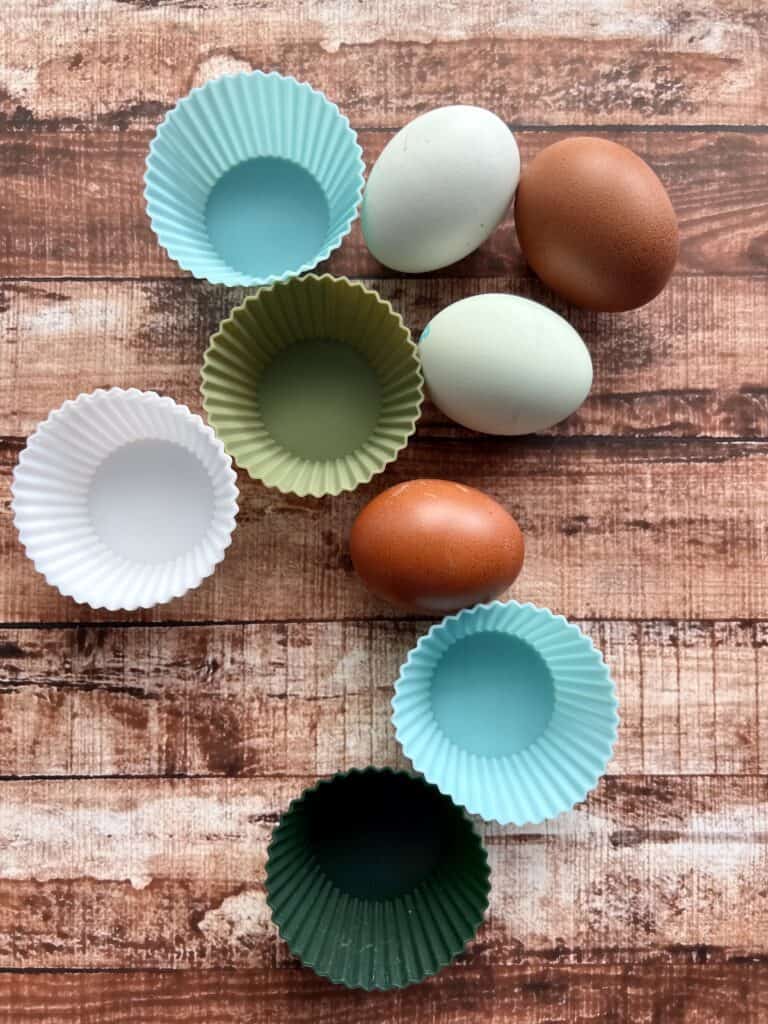 How to Make the Easiest Poached Eggs
Food-grade silicone is the best gift science has given to kitchens. At least, that's what I think right now after my morning date with perfectly gooey egg yolks. It's versatile and handles heat up to 500ºF. Plus, the best part: you can cook so many eggs at a time, even in a little pot!
All you need to do is fill up your pot with a little bit of water and bring it to a boil. Then add your eggs to lightly greased silicone molds and gently add them to the pot. About 3-4 minutes will have your eggs coming out ready for toast, or whatever recipe you have in store for them!
I know some people are looking for that classic poached egg look, but you can't look at these silicone mold eggs and tell me they aren't the cutest. The aesthetic alone inspires me to make them more often, and you know what's great? They make molds and trays in different shapes so you can make your poached eggs match the occasion if that's your thing.
How to Enjoy your Poached Eggs
My personal favorite way to eat my poached eggs is on some toast smeared with grass-fed butter or cheese (or both!). I also whip up some sweet potato muffins and sautéed kale and top everything with red pepper flakes and feta cheese.
Here are Some More Poached Egg Recipes to Enjoy!
Poached eggs on all the things! Yes please, and thank you.
FAQ
Can I use this method in the microwave?
You can! Put warm water in the silicone mold, add the egg, and then microwave! The time will vary based on your microwave's wattage so I'd recommend starting with 30 seconds and adjusting from there.
What about my Instant Pot?
Food-grade silicone can go in the instant pot, so feel free to use this trick to make your Instant Pot poached eggs look great and taste perfect.
Shouldn't vinegar be involved somewhere?
Vinegar isn't necessary for this method! If you like the subtle flavor it adds you're welcome to throw in a little dash, but vinegar is typically used when making poached eggs in a pot with water because it helps coagulate the egg whites. With the help of the molds, coagulating the whites isn't an issue.
Dietary Modifications + Tips:
This recipe is Paleo, Vegetarian, and Low FODMAP, because it's more like a cooking method rather than a recipe in and of itself.
Over the years I have acquired different food-safe silicone muffin liners, but these are the silicone muffin liners I'm currently using - they sort of match my brand colors!
Edit: since the original posting, you can now buy silicone egg poachers that do not have the ridges. They're maybe not as cute, but they're easier to clean.
Now all that's left is for you to whip up a bunch of these poached eggs and enjoy! Don't forget to follow me on Instagram, comment, and leave a star rating below!

Poached Egg in Silicone Cupcake Mold
Make these CUTE little poached eggs with silicone muffin liners for your perfect weekend brunch! 
Equipment
silicone baking molds

muffin cups

pot for simmering water
Instructions
Fill a pot of water a few inches. Make it about ½ centimeter lower than your silicone cup. Bring it to a high simmer / low boil.

Meanwhile, rub a little oil or butter around the inside of the baking molds, then crack 1 egg into each.

When the water is ready, slowly lower the eggs in the silicone molds into the water. It's best if you don't spill any egg white into the water, but that is nearly impossible if you're using medium or large eggs!

Cook for about 3-4 minutes, covered or uncovered, depending on your preferred egg doneness. Using a slotted spoon and/or tongs (I find using both is the best method). 

Gently remove eggs from the mold by running a spoon along the edge between the egg and the mold. 

Serve with salt, pepper, cheese, avocado, vegetables, hollandaise sauce, etc. Here I've served these atop my

sweet potato biscuits

!
Notes
Note: If you like your yolks a little less gooey, spoon some water onto the top of the egg and drain before serving.
Nutrition
Calories:
126
kcal
Carbohydrates:
1
g
Protein:
11
g
Fat:
8
g
Saturated Fat:
3
g
Polyunsaturated Fat:
2
g
Monounsaturated Fat:
3
g
Trans Fat:
0.03
g
Cholesterol:
327
mg
Sodium:
125
mg
Potassium:
121
mg
Sugar:
0.3
g
Vitamin A:
475
IU
Vitamin B1:
0.04
mg
Vitamin B2:
0.4
mg
Vitamin B3:
0.1
mg
Vitamin B5:
1
mg
Vitamin B6:
0.1
mg
Vitamin B12:
1
µg
Vitamin D:
2
µg
Vitamin E:
1
mg
Vitamin K:
0.3
µg
Calcium:
49
mg
Copper:
0.1
mg
Folate:
41
µg
Iron:
2
mg
Manganese:
0.02
mg
Magnesium:
11
mg
Phosphorus:
174
mg
Selenium:
27
µg
Zinc:
1
mg
Choline:
259
mg