Make this cozy ground pork soup with loads of vegetables all fall and winter long! This baby is bringing all the healing vibes in the form of vegetables, dried herbs, fresh lemon juice, and soothing broth, paired with the rich flavors of ground pork and just a splash of coconut milk. It's a hearty soup that's a comforting & complete meal in a bowl!
Recipe: $14.56 | Per Serving: $2.43 | Yield: 6
This post was originally published in November 2021 and has been updated with new photos and clearer instructions. The recipe remains unaltered.
Jump to:
This recipe came about, as a good portion of my recipes do, by surveying what's available in the kitchen, how much time we have, and how everybody is feeling.
In this particular case, we were trialing AIP for some autoimmune issues that are present in our household, which eliminated some of my favorite flavor boosters (tomatoes, paprika, red pepper flakes, Thai curry paste, and black pepper).
Instead I amped up the flavor in new ways using rich and flavorful ground pork, tons of dried herbs, peppery arugula, and bright lemon juice.
Not only did this resulting dish not disappoint, it actually WOWed us! I have made it a million times since and have tweaked the recipe here and there to get it just right!
This soup can be made ahead of time and is an easy one pot meal. If you're looking for more soups and stews, you might also try this Italian sausage and spinach soup and this spicy chicken soup with salsa verde. Two of my favorites!
Why You Will Love Ground Pork Soup
Easy to make! Simple ingredients and one pot - that's all you need to make this delicious ground pork and potatoes recipe. It only takes 30 minutes from start to finish!
Versatile recipe! While I love this particular combination of ingredients, this soup has so much flexibility, making it perfect for a wide range of budgets and also as a way to use up ingredients you have in your kitchen.
AIP Friendly and suitable for Paleo! So if you're having to avoid certain foods doing an AIP elimination diet, this ground pork vegetable soup is a simple dinner solution everyone will love! We are still making it, 2 years later!
So cozy, warm, and delicious! While you can enjoy it anytime of year, it's particularly delicious in the cooler fall and winter months.
Ingredients
The ingredient list combines a handful of fresh ingredients along with dried herbs for flavor. Everything is easy to find in most large grocery stores, but if your store doesn't carry Japanese sweet potatoes, you can try your local Asian/International market, or just use honeynut squash, kabocha, orange sweet potatoes, or regular white/red/yellow potatoes.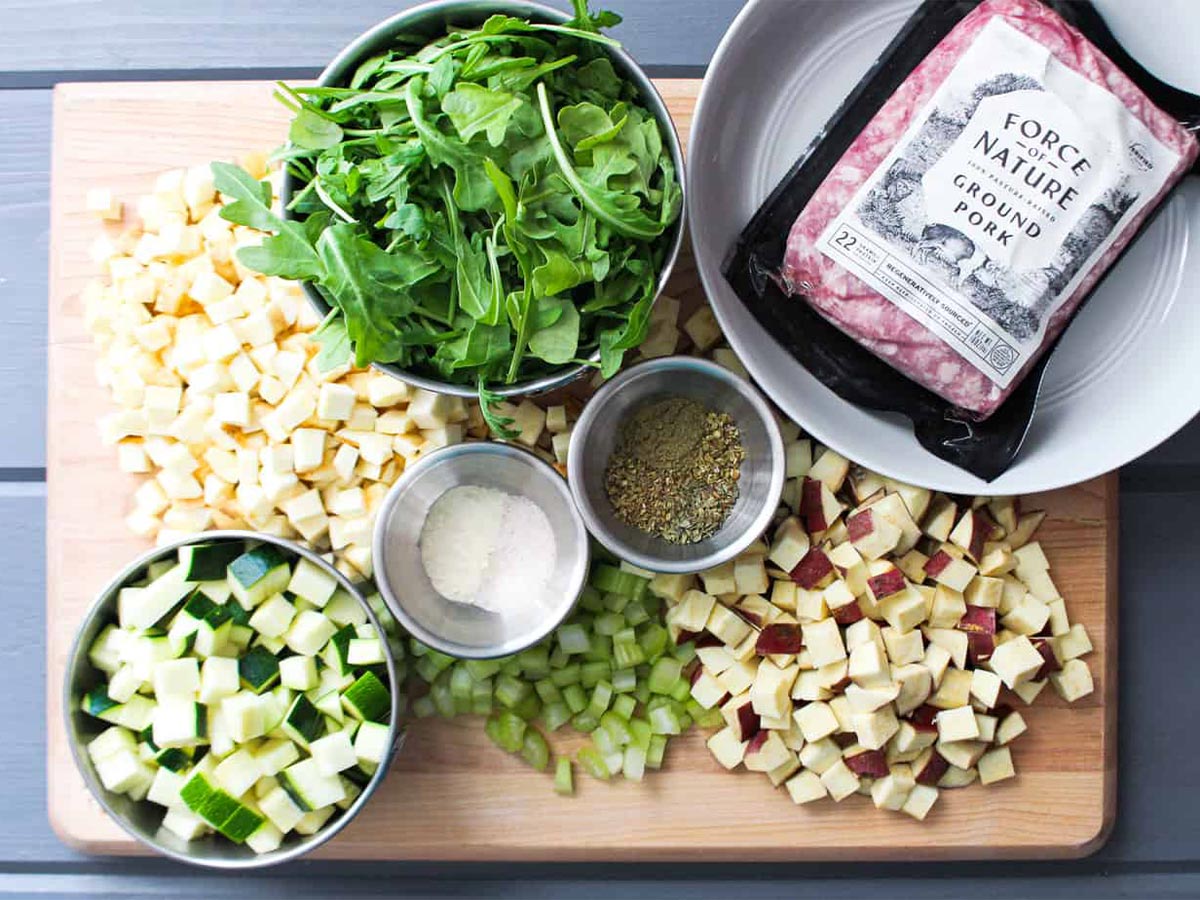 Be sure to check the recipe card at the bottom of the post for the full list of ingredients and instructions!
Ground pork: You can find ground pork in the meat section of your grocery store, but if you can splurge, I love Force of Nature's regenerative ground pork.
Seasoning: This recipe relies on dried spices. You'll need Italian herb seasoning, ground sage, dried oregano, dried basil, and onion powder.
Veggies: A combination of root vegetables and greens provide lots of texture, flavor, and color to the soup. You will need some parsnips, celery, sweet potato, zucchini, and arugula.
Broth: You can use chicken or vegetable broth depending on your preference. This is a great way to use any leftover slow cooker chicken bone broth.
Coconut milk: You want to use canned coconut milk (or homemade creamy coconut milk!). Don't worry - this soup doesn't taste like coconut at all. The coconut milk is here to add some creaminess and to slightly thicken the soup.
Arugula: This adds a nice peppery flavor to this soup, which is especially great if you need to avoid black pepper.
Lemon: Adding lemon juice to soups at the end of cooking does so much to brighten the flavor. I highly recommend using fresh if possible.
Dietary Modifications and Substitutions
Paleo: Yep, as is! This is also AIP-compliant, and perfectly suitable for the full Autoimmune Paleo protocol.
Vegetarian: Nope! You can't fully replicate the flavor of pork, but if you increase the coconut milk and replace the pork with white beans, I think that would be a delicious soup.
Low FODMAP: omit the onion powder and use homemade Low FODMAP chicken broth to make this a Low FODMAP (IBS friendly) meal!
Looking to change things up a bit in this pork soup recipe? Here are some easy substitutions and variations you may want to try out!
Swap the ground pork: You can make this soup with any type of ground meat though the pork is my favorite. Try it with ground turkey, ground chicken, or even beef.
Use carrots instead of parsnips: I opted to use parsnips here, but carrots are also great, and much cheaper.
Swap some winter squash for the sweet potato: I have made this with orange sweet potatoes, Japanese sweet potatoes (as shown here), butternut squash, and honeynut squash. They all work great so use whichever you prefer.
Swap the arugula: Arugula is my favorite vegetable and I really enjoy the unique flavor it provides. But I have also used spinach, kale, and even mixed greens in place of the arugula in this soup.
Use cream instead of coconut milk: You should be able to replace the coconut milk with heavy cream, half and half, or even cashew cream. (Though this is a variation I have not tested.)
How to Make Ground Pork and Vegetable Soup
This soup is a cinch to put together, and has all the healing vibes we need for these cooler fall and winter months. Let's get cooking, friends.
Prep all the veggies by washing and chopping them as directed in the recipe card. Set them aside for a bit.
Cook the pork in a large pot or dutch oven over medium heat. As it cooks, use a wooden spoon to break it up into pieces.
Add the dried herbs, onion powder, and salt to the pot, and stir. Continue to cook until the pork is well browned.
Add the diced parsnips, diced celery, diced sweet potato, and broth to the pot. Bring it to a boil and the reduce the heat to low and cook uncovered until the sweet potatoes and parsnips are fork tender, about 15 minutes.
Add the diced zucchini and a ½ cup coconut milk. Cook for about 5 more minutes.
Add the chopped arugula and the juice of half a lemon.
Stir it into the soup so the arugula wilts. Give it a taste and add more salt if needed.
Serving Suggestions
This vegetable, pork and potato soup is a meal on its own! But here are a few ideas if you're serving this to a crowd and would like some accompaniments!
This dish is easy enough to make during the week so it's perfect for weeknight dinners but honestly tasty enough to serve to guests.
If you meal prep, this ground pork stew is perfect to make ahead and reheat during the week!
How to Store and Reheat
Store meal prepped or leftover pork and sweet potato stew in the fridge for 4-7 days. You can also freeze it for up to three months though the veggies may be slightly softer after freezing.
Reheat the soup in a pot on the stove or individual servings in the microwave. If the soup seems a bit thick, you can add a bit more broth or coconut milk to thin it out.
Expert Tips
Cut the vegetables, especially the root vegetables, into similar sized pieces. I like them about a half of an inch. This helps them cook quickly and evenly.
When browning the pork you want to cook it completely. As it cooks stir it frequently and continue using your wooden spoon to break up any large pieces.
Feel free to swap out the veggies with ingredients you have in the kitchen. Check out some of my suggestions above to change up your Italian pork soup.
Recipe FAQs
What cuts of pork are best for soup?
You want to use a pork that has a moderate to high amount of fat. This will break down as the soup cooks and make the meat super tender. These meats generally work best when slowly cooked such as in a slow cooker. In this recipe, ground pork makes a simple option that cooks much more quickly and is perfectly tender.
Is pork more tender than beef?
Pork generally is more tender than beef because pigs are processed at a younger age than cows so their meat hasn't had as much time to turn into muscle. When cooking with ground meat, you don't need to worry so much about this issue so you can interchangeably use either one.
What is the AIP diet?
AIP stands for Autoimmune Protocol, and is an elimination diet that has been shown to significantly improve certain autoimmune conditions and help people achieve remission. This protocol is credited to the research of Dr. Sarah Ballantyne and the work of Dr. Loren Cordain. This therapeutic protocol eliminates dairy, grains, nuts, seeds, nightshades, eggs, and legumes, while encouraging the intake of meat, vegetables, bone broth, and herbs. I do not recommend embarking on such a significant elimination without the oversight of a skilled practitioner!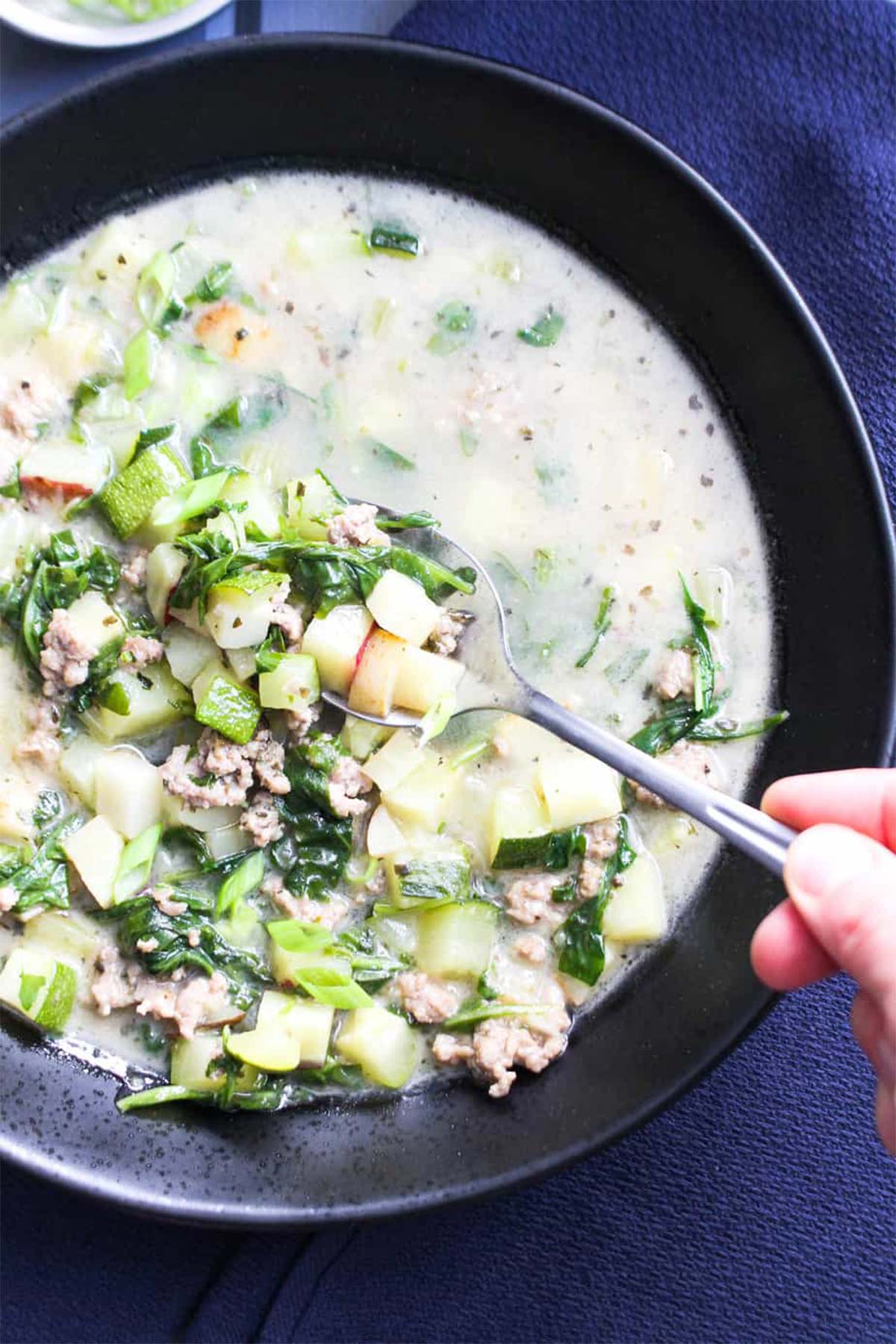 More Pork and Ground Pork Recipes
Did you like this recipe? If so, please take a moment and give it a 5-Star ⭐️⭐️⭐️⭐️⭐️ review and leave a comment further below! Don't forget to follow me on Facebook, YouTube, Instagram, and Pinterest for more delicious recipes!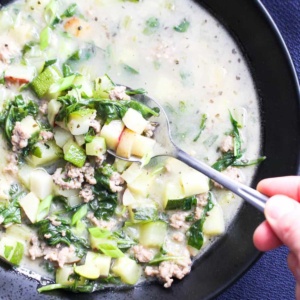 Ground Pork Soup with Vegetables
This herb-packed ground pork soup is easy to throw together on a weeknight, and is packed with tons of dried herbs from the pantry! Swap out the sweet potato with your favorite winter squash when they're on sale!
Ingredients
1

pound

ground pork

1

teaspoon

Italian herb seasoning

1

teaspoon

ground sage

1

teaspoon

dried oregano

1

teaspoon

dried basil

1

teaspoon

onion powder

1 ½

teaspoon

salt

2

parsnips

or carrots, diced

2

stalks

celery

diced

1

sweet potato

~14 oz, any type will work, diced

6

cups

unsalted broth

chicken or vegetable

1

medium

zucchini

diced

½

cup

coconut milk

3

cups

arugula

roughly chopped

juice of ½ a lemon

about 1.5-2 Tablespoons

additional salt

as needed
Instructions
Dice all of the vegetables - parsnips, celery, sweet potato, and zucchini - into bite-sized pieces. Roughly chop the arugula. Set the zucchini and arugula aside to add towards the end of the cooking process.

Heat a large pot or dutch oven over medium heat. Add the pork. Break up the pork and stir to brown. After it's been cooking for a few minutes, add in the dried herbs, onion powder, and salt, stir to combine and cook until the pork is browned through.

Add diced parsnips/carrots, diced celery, diced sweet potato, and 6 cups broth. Bring this to a boil and reduce to a simmer.

Simmer for about 15 minutes, uncovered, or until the sweet potatoes and parsnips are fork tender.

Add the diced zucchini and ½ cup coconut milk. Cook for about 5 more minutes.

Stir in the chopped arugula and the juice of half a lemon. Taste to add more salt if needed and serve.
Notes
Suggested substitutions:
Carrots for parsnips: I was going for just white and green colors here, so I opted for parsnips, but carrots are great too, and much cheaper.
Winter squash for sweet potato: I have made this with orange sweet potatoes, Japanese sweet potatoes (as shown here), butternut squash, and honeynut squash. Use whichever you prefer.
Spinach or kale for arugula: arugula is my favorite vegetable, and I think it adds such a nice peppery flavor here, but we have used spinach, kale, and even mixed greens in place of the arugula.
Cream for coconut milk: This soup doesn't taste like coconut at all. The coconut milk is here to add some creaminess and slightly thicken the soup. You should be able to replace it with heavy cream or half and half with no change in flavor or consistency. (Though this is a variation I have not tested.)
Nutrition Label: 
As always, please note that the nutrition label is just an approximation. For example, if using my homemade chicken bone broth recipe, you will get an additional 6-8 grams of protein per serving. (Compared to the label below.) 
Nutrition
Calories:
359
kcal
Carbohydrates:
23
g
Protein:
20
g
Fat:
22
g
Saturated Fat:
10
g
Polyunsaturated Fat:
2
g
Monounsaturated Fat:
8
g
Cholesterol:
54
mg
Sodium:
739
mg
Potassium:
960
mg
Fiber:
5
g
Sugar:
6
g
Vitamin A:
5725
IU
Vitamin B1:
1
mg
Vitamin B2:
0.4
mg
Vitamin B3:
7
mg
Vitamin B5:
1
mg
Vitamin B6:
1
mg
Vitamin B12:
1
µg
Vitamin C:
20
mg
Vitamin E:
1
mg
Vitamin K:
36
µg
Calcium:
96
mg
Copper:
0.4
mg
Folate:
71
µg
Iron:
3
mg
Manganese:
1
mg
Magnesium:
66
mg
Phosphorus:
299
mg
Selenium:
20
µg
Zinc:
3
mg
Choline:
20
mg