Recipe: $13.97 | Per Serving: $2.33 | Yield: 6 servings (~5 oz each)
Vietnamese meatballs are rich and flavorful with just the right touch of sweetness. Perfect for salads, lettuce wraps, rice bowls, rice noodles, or even a banh mi sandwich! We fell in love with traditional bun cha in Hanoi, and I'm excited to recreate the flavors here!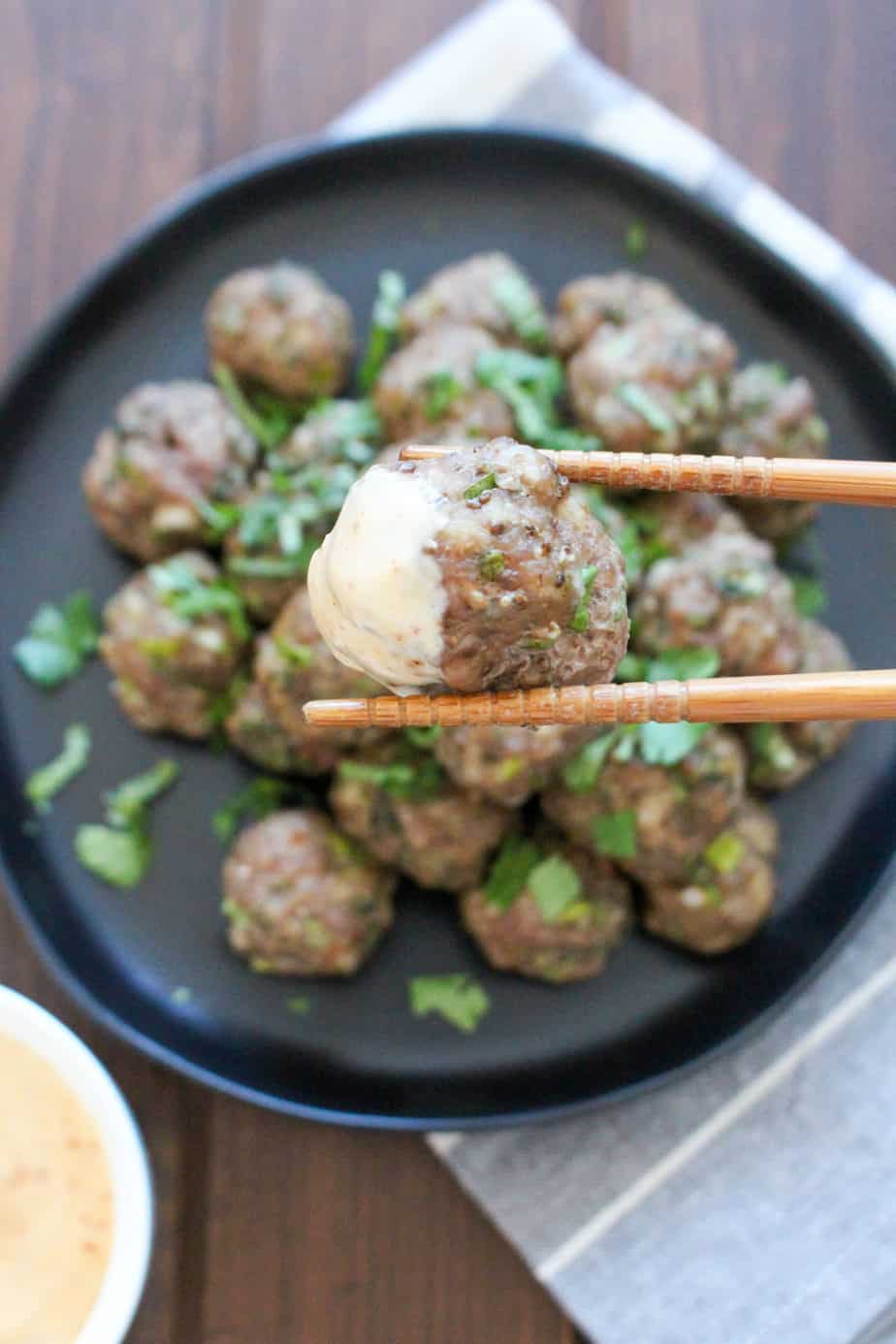 What is Bun Cha?
Bun cha refers to the Vietnamese pork meatball dish served over rice noodles with a flavorful cold broth. I'm pretty sure the Bún refers to the rice vermicelli, and the Cha refers to the meatballs.
Although there were a lot of amazing dishes in Vietnam, Bun Cha is definitely the one that stood out the most to me. We always had it as a dish of grilled pork (usually pork patties), vermicelli rice noodles, fresh herbs and lettuce, and a bowl of diluted sweetened fish sauce, served cold.
The first time we had it we had no idea how to eat it because all of the ingredients were served separately. And a cold broth? It was confusing for a moment, but delicious right away.
Despite showing our foreign-ness, we were immediately hooked on those perfect pork patties on the streets of Hanoi, and it's something I order every chance I get! I decided to recreate these flavors into easy-to-eat meatball form and I'm obsessed!
For more information on Vietnamese food translations, The Kitchn has a good breakdown of the different Vietnamese noodle types here.
What Makes These Meatballs Vietnamese?
Staple cuisine in Southeast Asia usually includes some sort of fermented fish product (like fish sauce), some sort of spice (Thai chilies, etc.), and fresh herbs (mint, Thai basil, cilantro, etc.). These meatballs have fish sauce and fresh meatballs, which make all the difference!
After playing around with various recipes for Vietnamese dishes, I settled on this delicious Vietnamese-inspired baked meatball. However, please know that grilled bun cha is more traditional, so feel free to cook these on your stovetop or press them into patties and cook them on your grill.
If you have the chance, you absolutely want to toss these into a fresh salad - and if you can handle rice noodles, definitely add in some vermicelli!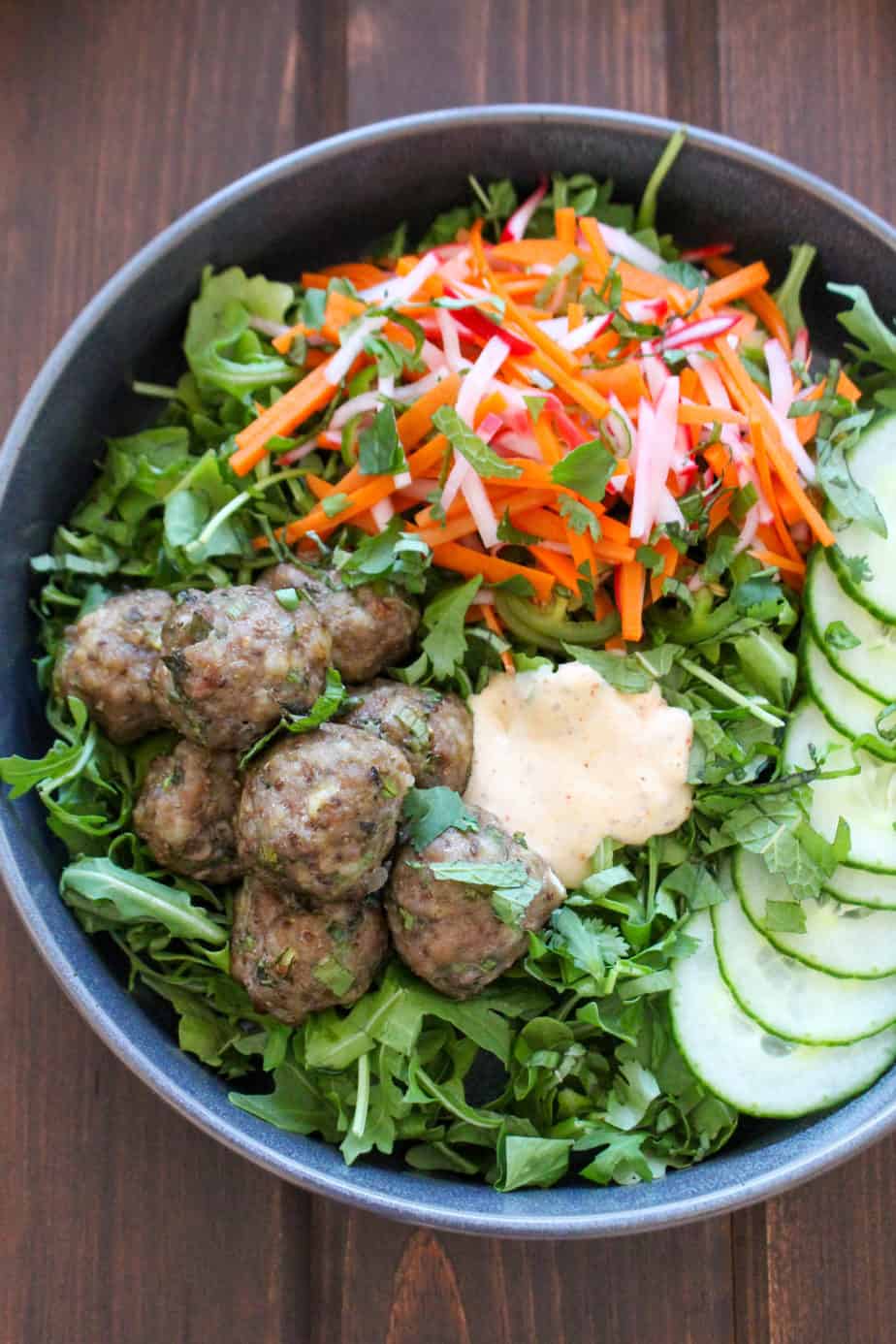 How to Make Vietnamese Meatballs
These meatballs are really straightforward, and I like to bake them to keep it really quick! However, you can grill or pan fry these for a more traditional flavor.
For these Vietnamese (bun cha) meatballs, you need:
pork or pork and beef
herbs - preferably mint and basil, cilantro is also great
scallions
ginger
lime zest
I also love to include coconut aminos and fish sauce, but I recommend omitting them if you're following the Low FODMAP food plan
How to Keep Meatballs Moist
There are lots of ways to make meatballs, but most of them include bread crumbs. Since we don't really do breadcrumbs, I've been trying many different ways to keep meatballs moist.
I've tried:
zucchini and other shredded veggies
and today - chia seeds!
The chia seeds idea comes from Serena of Domesticate Me. She uses chia seeds for nearly all of her recipes and it works quite well! I think it's one of the easier swap options, but you don't get the added benefits of extra vegetables like some of the other options.
Now that you have all the deets - get meatballin'!
Paleo: Yep!
Vegetarian: No, sorry! You could probably use similar flavors in a sauce without using meat though!
↓ PIN THIS RECIPE FOR LATER! ↓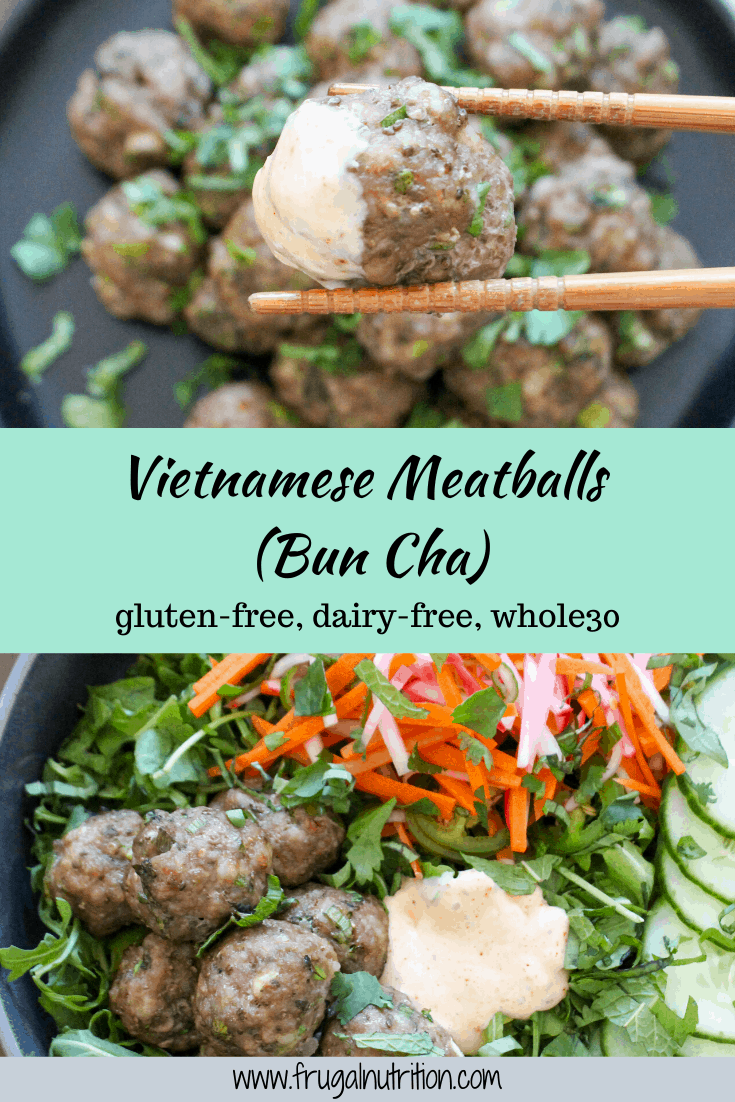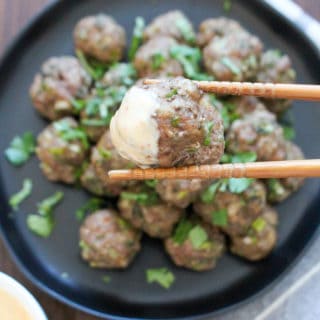 Vietnamese Meatballs (Bun Cha)
These delicious meatballs are the perfect treat for weekday lunches or dinner. Serve them in your bento box or atop a fresh and tangy salad!
Ingredients
For the Meatballs:
1

pound

ground pork

1

pound

ground beef

2

Tablespoons

minced mint

2

Tablespoons

minced basil

2

Tablespoons

minced cilantro

3

scallions

minced (green parts only for Low FODMAP)

2

Tablespoons

chia seeds

2

Tablespoons

ginger

2

teaspoons

lime zest

½

teaspoon

salt

increase to 1 teaspoon for Low FODMAP

1

Tablespoon

fish sauce

omit for Low FODMAP

1

Tablespoons

coconut aminos

omit for Low FODMAP

3

cloves

garlic

minced (omit for Low FODMAP)
For the Sauce:
⅓

cup

homemade mayo

or primal kitchens

¼

teaspoon

salt

¼

teaspoon

cayenne

more to taste
Instructions
For the Meatballs:
Combine all ingredients until well mixed. Refrigerate for about 10 minute to let the chia seeds start to gel.

Preheat oven to 400ºF.

Using a small ice cream scoop, measure out 45-50 meatballs, then roll each one individually between two hands. Place them on a lined baking sheet.

Bake for about 20 minutes or until completely cooked through.
For the Sauce: 
Combine the mayo, salt, and cayenne and serve!
Notes
Feel free to add 1 minced Thai chili (or ½ a minced jalapeño) for added heat.
Nutrition label is for the meatballs alone; does not include the sauce.
If you're making these for lunches, you can definitely stretch them out to 8 servings. You do you!
Nutrition
Calories:
61
kcal
Carbohydrates:
0.5
g
Protein:
3
g
Fat:
5
g
Saturated Fat:
2
g
Polyunsaturated Fat:
1
g
Monounsaturated Fat:
2
g
Trans Fat:
0.1
g
Cholesterol:
14
mg
Sodium:
91
mg
Potassium:
59
mg
Fiber:
0.2
g
Sugar:
0.05
g
Vitamin A:
27
IU
Vitamin B1:
0.1
mg
Vitamin B2:
0.04
mg
Vitamin B3:
1
mg
Vitamin B5:
0.1
mg
Vitamin B6:
0.1
mg
Vitamin B12:
0.3
µg
Vitamin C:
0.4
mg
Vitamin D:
0.01
µg
Vitamin E:
0.1
mg
Vitamin K:
4
µg
Calcium:
8
mg
Copper:
0.02
mg
Folate:
2
µg
Iron:
0.3
mg
Manganese:
0.02
mg
Magnesium:
6
mg
Phosphorus:
36
mg
Selenium:
4
µg
Zinc:
1
mg
Choline:
6
mg