I've been spending the last few weeks relying on some of my old standard recipes, making a lot of other people's recipes, relying on a few weeks of meal kits, and smashing through our remaining frozen foods in anticipation of Spring Foods and Summer Foods. I've been busy (as usual - who isn't?), and cooking easy meals has been great, but I've been left with little opportunity to get experimenting in the kitchen.
In honor of relying on some of my favorite simple dishes, I thought I would throw together a little round-up of my favorite one-pot meals. These are the dishes that take very little time or very little effort or BOTH. Many can be eaten on their own, but others are best when paired with rice or noodles or tortillas, as indicated below.
PLEASE do yourself a favor and get some easy recipes in your daily life.
Gluten-Free | Super Easy | 30-40 Min | Serves: 4
Serve with: Whole Wheat Pasta, Whole Wheat Couscous, Cheddar Garlic Biscuits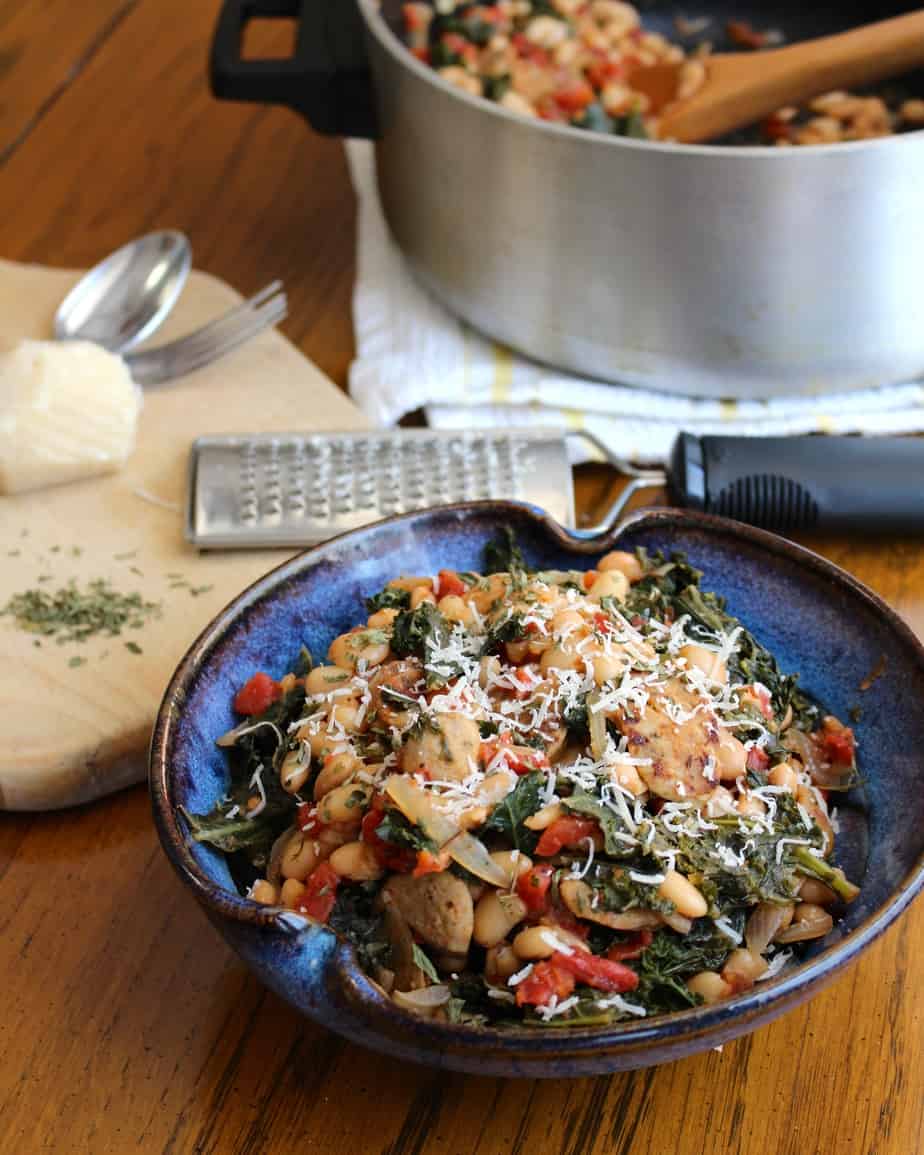 Let's kick things off with one of the simplest one-pot options: sausage + white beans + a can of tomatoes + kale. I took this over to a friend's house not too long ago with super delicious Cheddar Garlic Biscuits and although her 3-year-old was much more interested in the biscuits than the main dish, it was still a success. To make it even easier, I often swap out the kale for frozen spinach or whatever greens I get from the farmer's market, such as collards or Swiss chard.
Gluten-Free | Medium Effort | Prep Time: 10 | Cook Time: 80 minutes | Serves: 5ish
Serve as is or with a side salad. 
SO GOOD. This is one of my favorite recipes of all time. I usually use ground beef and lots of sausage-y seasonings, but I recently made it with some chorizo I found on sale and it was still super delicious. Flavorful, cozy, but not too heavy. It's delicious! Everyone should eat it! Sometimes I toss some greens in there, sometimes I don't. 
Paleo & NO PREP | Super Easy | 15 Minutes | Serves: 4
Serve with: Brown Rice Noodles, Brown Rice, Shirataki Noodles, or As Is
This recipe is just fantastic and fantastically simple. Brown some turkey, add some seasonings and coconut milk and frozen spinach and frozen bell peppers and cook a little longer. DONE. I've decided that although I love eating this as is, my new favorite way is with brown rice noodles for maximum slurpability. Noodles = <3. But seriously: real food, 15 minutes of your time. 
Gluten-Free & Vegan | Easy | One Hour | Serves: 8-10
Serve with: Plantain Chips, or Cuban Cilantro Chicken, or Brown Rice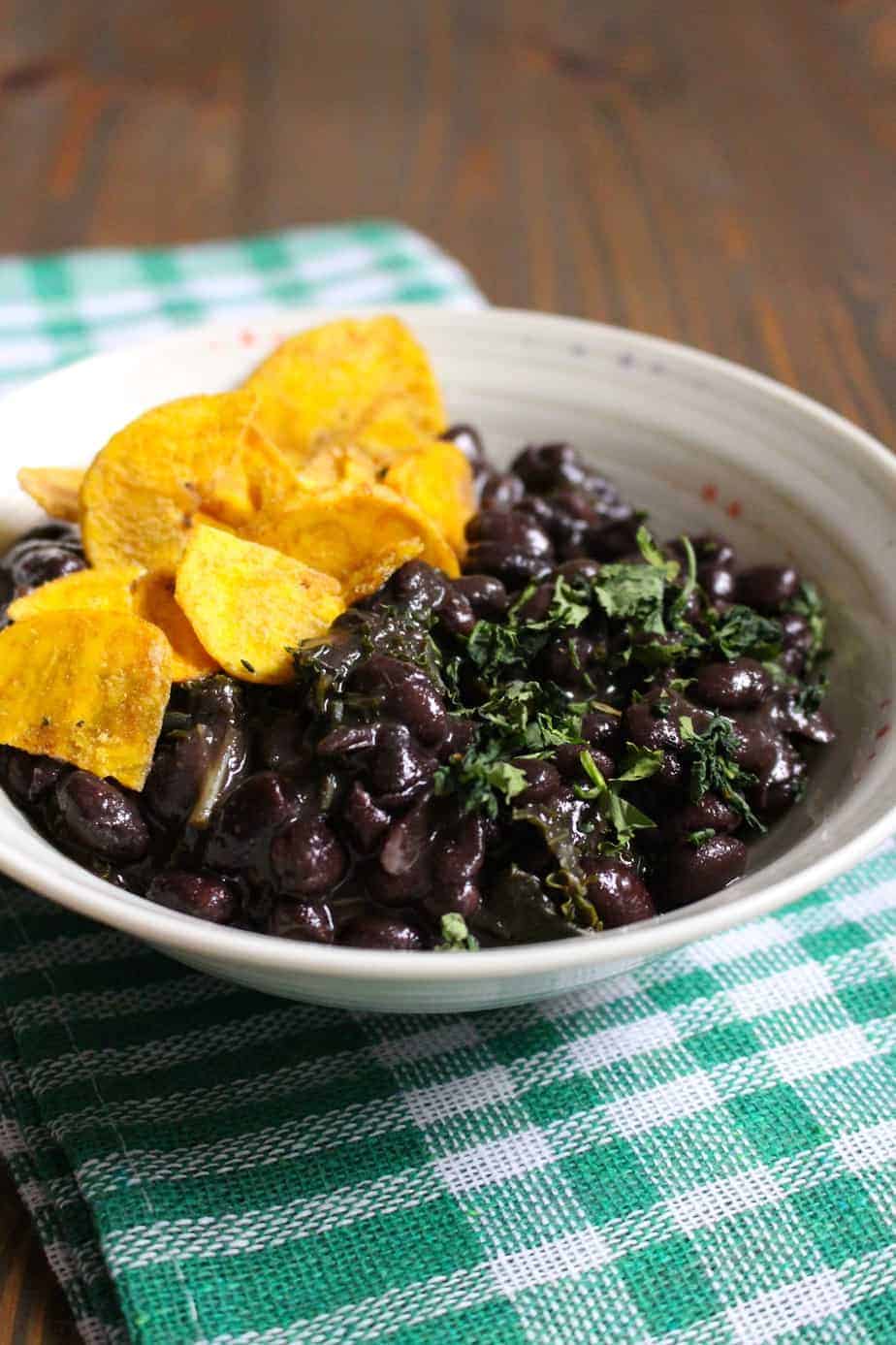 Although I made this as a side to go with Cuban Cilantro Orange Chicken, I ate half of the servings as my main dish with plantain chips and I was very happy about that. One time I added an egg. This one takes some time if you're cooking the beans from dry (plus an overnight soak), but you can make this with pre-cooked beans or from the can to make life easier on a weeknight.
Gluten-Free | Easy | 35-45 Minutes | Serves: 4
Serve with: Steamed Broccoli, Salad, Veggies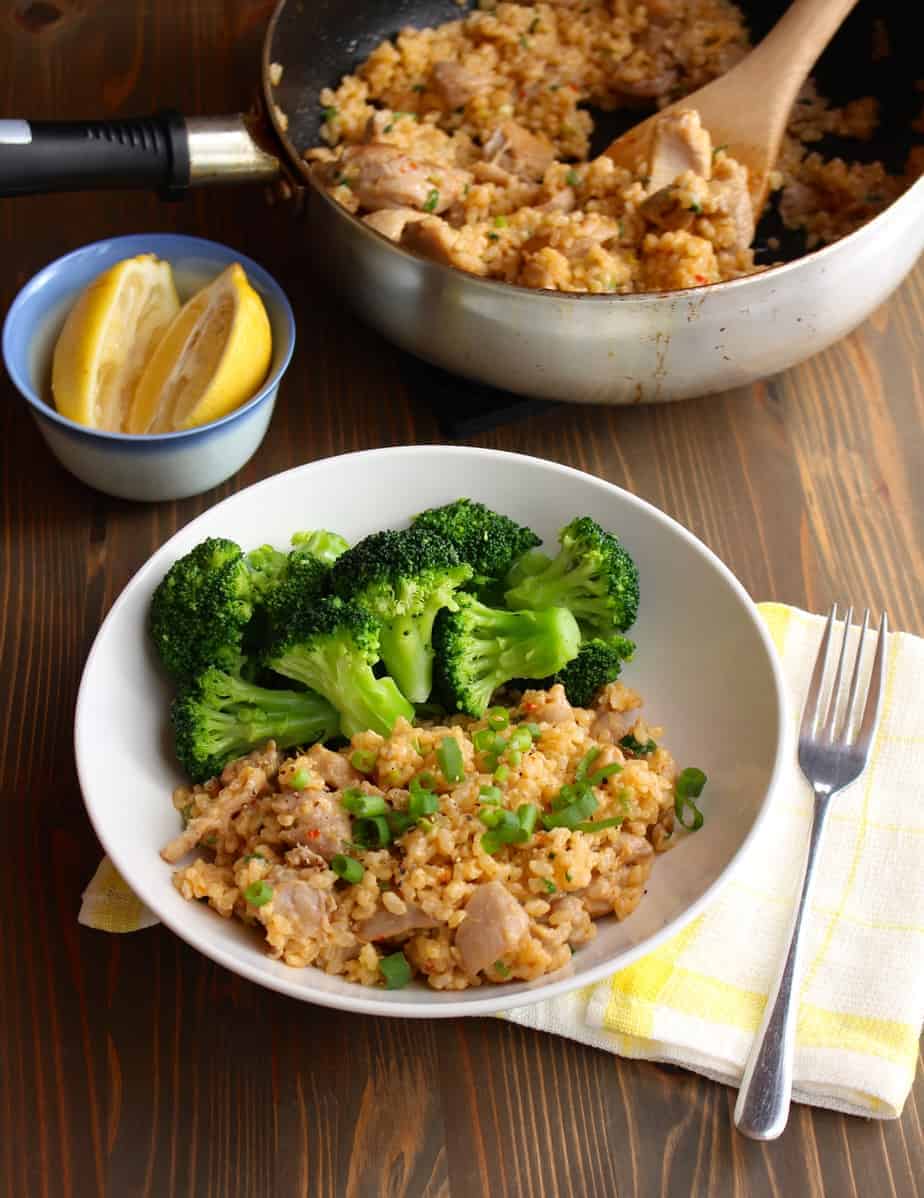 Flavorful rice dishes are my jam, and this spicy garlic coconut version is super delish. Chili-garlic sauce and sambal oelek are my favorite choices for this dish, but you could go with sriracha or Thai red curry paste if you prefer. I tend to double the spice and/or add some cayenne to get some more heat. I highly recommend using a nonstick straight-sided skillet if you've got one, as the rice sticks a bit to the bottom of a stainless steel pan. I use short-grain brown rice, so if you change that up, the cooking time and liquid needed might vary. Also, toss some broccoli on top during the last 5ish minutes for a complete one-pot meal.
Important disclaimer: you're using UNCOOKED rice in this recipe. I think it is very possible that you could make this dish with already cooked rice, but this recipe calls for UNCOOKED rice. (My brother Alex made it with cooked rice, panicked halfway through when he realized his error, and then added uncooked rice. He ended up with a lot of mushy rice. Read the directions. Don't be like Alex.)
Paleo | Super Easy | 20 Minutes | Serves: 4
Serve: As Is (zucchini noodles), or with Brown Rice Noodles, Brown Rice, Shirataki Noodles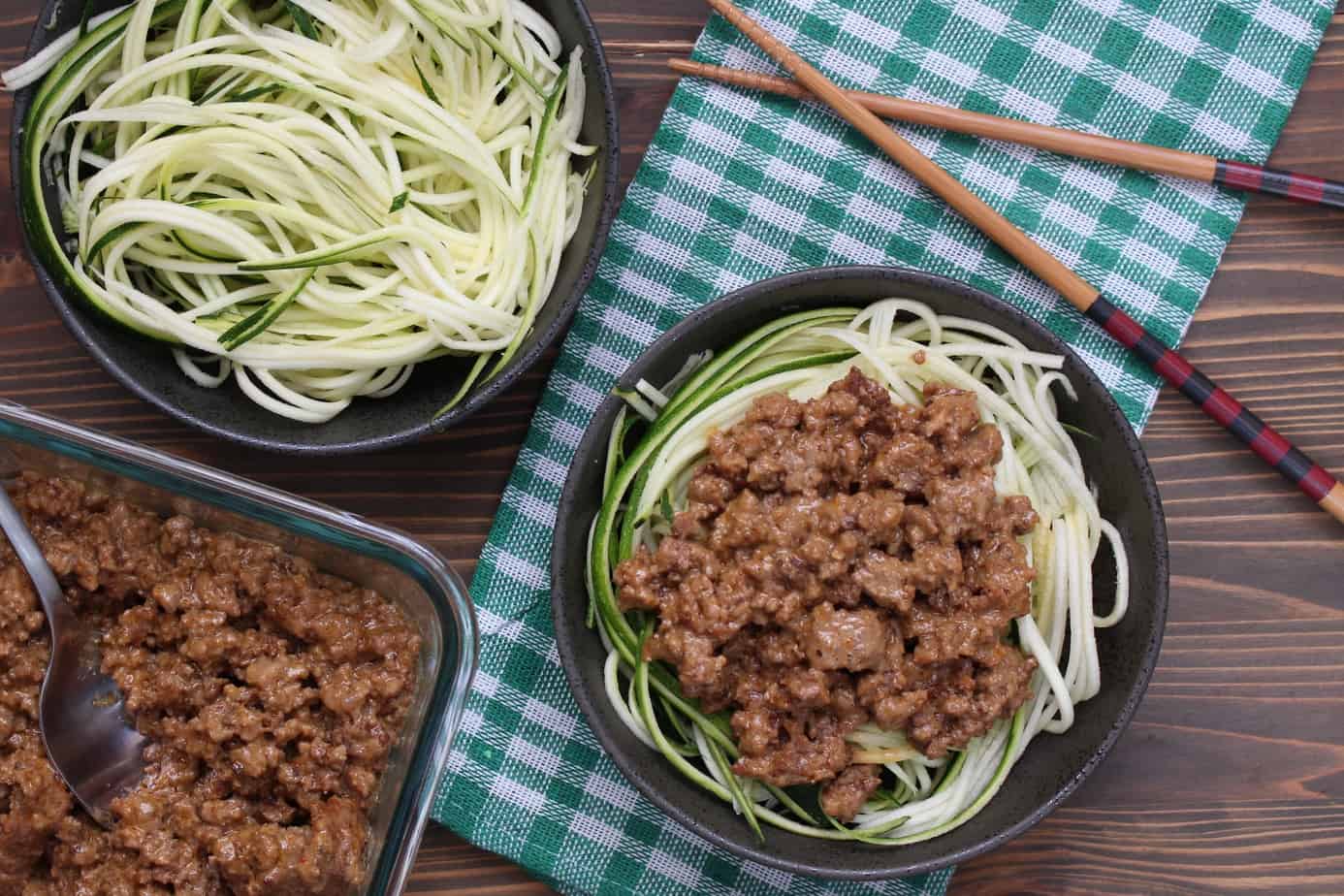 HI. THIS IS AWESOME. Brown some beef and let it simmer for a little while in coconut milk and Thai red curry paste while you spiralize yourself some zucchini noodles (julienne peeler//spiralizer//mandoline all get the job done). This dish is super flavorful, but not too heavy thanks to the zuccs. You can swap out the zucchini noodles for some other pairing such as brown rice or brown rice noodles, but I highly recommend giving those zoodles a shot. You can lightly saute the zucchini if that's your style, or you can toss it in with the beef off the heat, or eat it raw! This is perfect for those days when you're like, um, maybe I should save the carbs for dessert.
Vegetarian | Easy-Medium Effort | 25 Minutes | Serves: 4-6
Serve with: Whole Wheat Naan or As Is
Maybe for breakfast, or maybe for dinner, the incredibly popular dish of Shakshuka gets upgraded to full meal status with the addition of chickpeas and kale. I swoon a little for runny egg yolks, and whoever decided long ago to pair them with tomatoes is a next level genius. I like to top this dish with feta cheese and scoop it all up with whole wheat naan, but you can keep it dairy-free and gluten-free if that's your style. 
Vegan | Super Easy | 25-30 Minutes | Serves: 4
Serve: As Is or with Shirataki Noodles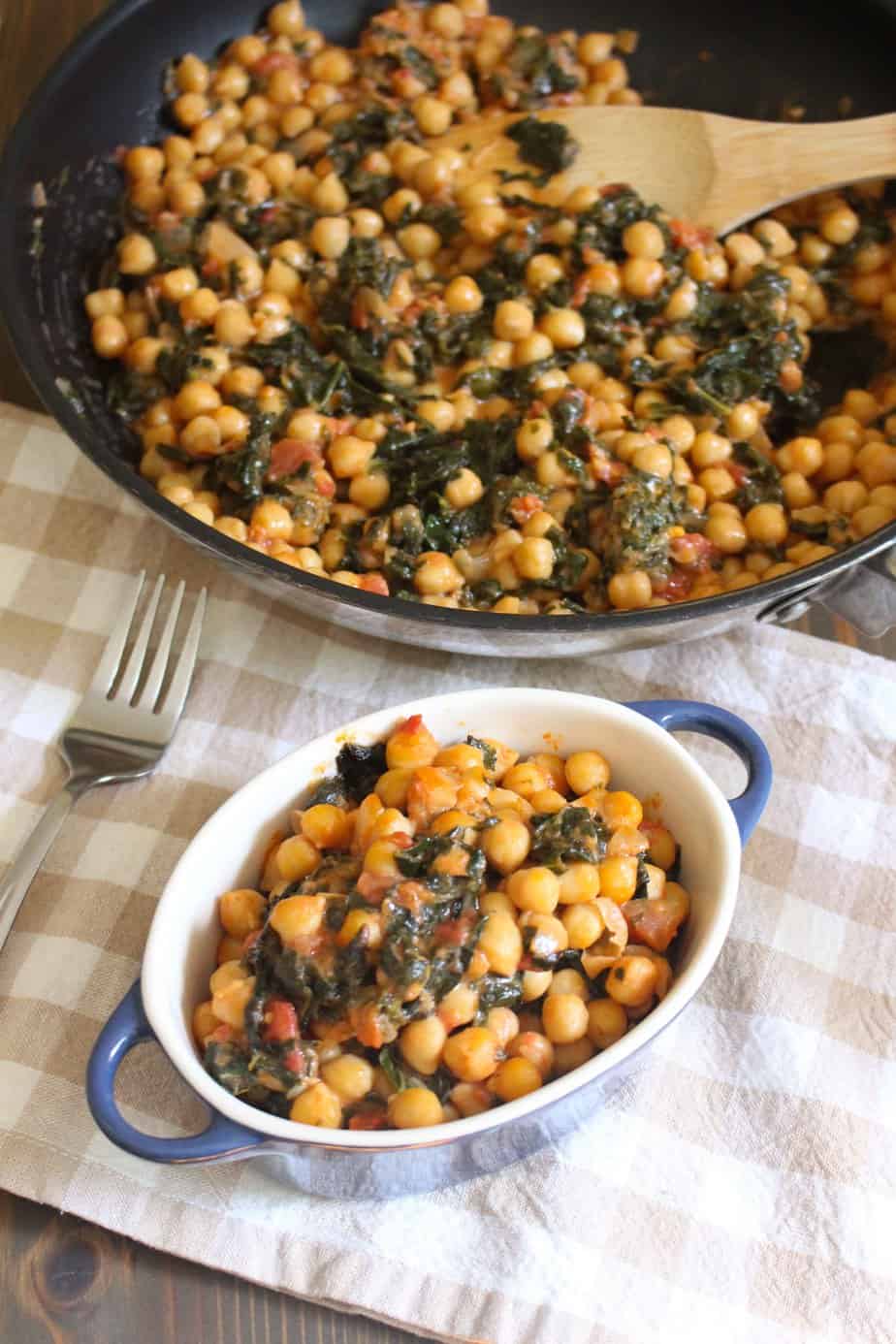 Four ingredients! The only prep required is washing and chopping kale. And you could totally use pre-washed kale or spinach or some other easy green. This picture needs an upgrade, because it certainly does NOT do this dish justice. I actually took these pictures after heating it up the next day, so they're not a strong indication of how the dish will actually look. SO GOOD. I like it best with shirataki noodles or on its own.
Vegetarian| Super Easy | 25 Minutes | Serves: 4
Serve: As Is with Frozen Spinach Added, with Crispy Stovetop Chicken Thighs, or with White Beans
This. Dish. Is. My. Favorite. Maybe I say that a little too often, but this dish stole my heart back when I had just discovered how to make crispy stovetop chicken thighs and I was looking for something easy to serve with them when we had 8ish people over for dinner in Japan. My rice cooker was my favorite kitchen appliance and I'm still super sad to have given it away (it wouldn't have worked in the US without a converter anyway), but you can still make this if you know how to cook rice. I know the recipe doesn't call for spinach originally, but I almost always toss in some frozen spinach to make it a complete dish. 
Gluten-Free (Paleo w/o Cheese) | Super Easy | 25 Minutes | Serves: 4
Serve: As Is, with Corn Tortillas, Black Beans, or (Brown) Rice
One of my original one-pot dishes, it's also still one of my favorites. Cheesy jalapeno goodness with chicken thighs and kale? Hi, yes please. I prefer this paired with (homemade) corn tortillas, but I've eaten it as-is plenty of times as well. When I'm not feeling Paleo, I sometimes add 1-2 cups of cooked black beans to the mix to make it a little more filling.
THE END! Thanks for checking out some of my favorite one-pot/one-pan dinners! I hope you have a chance to add these super easy meals to your busy life.